PRESS RELEASE
The Launch of FireWriter2 - Next Generation Custom Gear Configurator
---
Medina, OH - Fire-Dex has released a new, state of the art, rebuild of their original online custom gear configurator.  
FireWriter2 has been built with the latest in web technology. Together with its interactive design and intuitive features, FireWriter2 is extremely easy to navigate…even in the often complicated world of custom turnout gear.
Similar to going online and building your perfect car, Fire Departments can now use FireWriter2 to build their ideal set of custom turnout gear. In addition, the department can then send a copy of the gear they just built to their dealer and with just a few clicks, the dealer can then submit it as an order directly to Fire-Dex. Fire-Dex dealers will also use this tool to build quotes, provide specification text, share TPP/THL numbers, and etc.   
Drag and drop custom option placement, "smart" dropdown boxes and "filtered" selections, real time pricing updates, image of gear that updates with each option selection; those are just a few of the new features that make FireWriter2 the leading gear configuration tool in the industry. John Zbozien, Director of Marketing at Fire-Dex said "Program performance, error proofing and efficiency, that is what we focused on throughout the design of FireWriter2. We focused programming efforts in areas that are often the most complicated and where errors most frequently occur so that both fire departments and our dealer partners would have the best overall experience possible".  
Custom turnout gear has thousands of options and combinations. FireWriter2 houses every option that Fire-Dex offers and makes it just a click away.
For more information, visit firewriter.firedex.com or firedex.com or contact Fire-Dex at info@firedex.com. 
About Fire-Dex
Fire-Dex is a quality manufacturer of protective firefighting clothing, emergency response apparel, premium quality NFPA hoods, gloves, helmets and boots. Visit www.firedex.com for more information.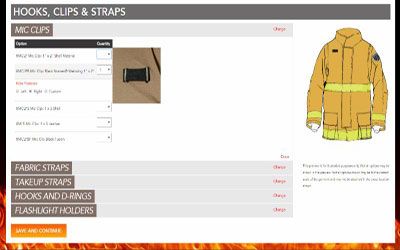 Request more info from Fire-Dex, Inc.
Thank You!