PRESS RELEASE
Ziamatic Corp. Introduces New Horizontal Helmet Pouch
---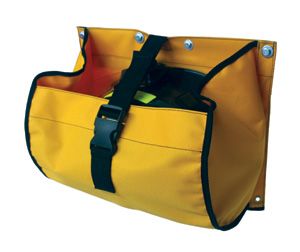 YARDLEY, PA – Ziamatic Corp. presents their latest offering in flexible, NFPA compliant helmet storage: the Horizontal Helmet Pouch, Models PGPB-2 & PGPY-2. A horizontal alternative to the popular, vertically-aligned Model PGP-1, the PGP_-2 is ideal for mounting to the front of crew cab seats and other areas with restrictive height requirements.
The strong, durable, PVC-coated polyester pouch includes grommets for simple and secure mounting to virtually all flat surfaces. Use the pouch to quickly stow a helmet, gloves, small tools, or personal effects on the way to the scene. The large, one-hand buckle keeps the helmet secure and is easy to operate with or without gloves.
NFPA 1901-09 compliant and third-party tested to exceed the 9G standard for use inside a crew compartment. Fits all current traditional, contemporary, and wildland helmet styles. With no hard edges, this collapsible pouch makes for a safe and economical storage option. Made in the USA. Available now in Black or Yellow. List Price: $44.80. For more information please call 1-800-711-FIRE or visit www.ziamatic.com
About Ziamatic Corp
Ziamatic Corp. (ZICO) was founded in 1958 with the intention of providing the men and women of the fire services industry with products that make their profession safer and easier. Over 50 years later Zico remains a leader in SCBA bracket and ladder rack technology. For more information, please call 1-800-711-FIRE or visit www.ziamatic.com

Request more info from Ziamatic Corp. (ZICO)
Thank You!