FireBot has kitchen fires covered
The small above-the-stovetop unit can detect an uncontrolled cooking fire and deploy a proprietary liquid to extinguish the fire before it has time to spread
---
Sponsored by FireBot Fire Suppression Systems
"Food on the stove" is a phrase used in firehouses across the country to signal one of the most common fire alarms. It's a call type that many firefighters have responded to and many homeowners have experienced – and at very high cost.
It's safe to say that many of us, at some point in our lives, have started a pot on the stovetop, then walked away for what we plan to be just a minute, only to get distracted by something else and completely forget about that boiling pot. We then suddenly remember several minutes later and, in a panic, run to the kitchen to find a burnt, ruptured egg in a dry and extremely hot pot. If this has happened to you, I am sure you understand why "food on the stove" is such a common call type.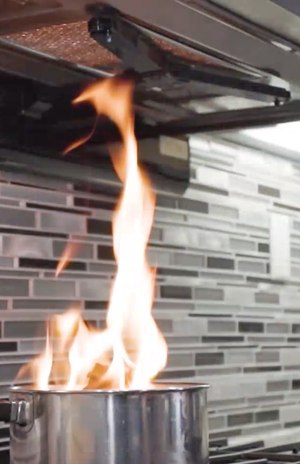 The U.S. Fire Administration's report on Cooking Fire Safety states that in 2020, home cooking fires in the United States resulted in an estimated 192,600 fire department responses, 140 fatalities, 3,175 injuries, and property losses exceeding $465 million. Nonetheless, too many people simply don't believe that a cooking fire emergency will happen to them. We all want to believe that we practice safe cooking habits in the kitchen, so it will never happen to us. Please refer to the boiling egg above. Believe me, it can happen to anyone – even firefighters.
It's unlikely that we'll ever not have cooking fires, but fortunately, there is a new product that can help mitigate these emergencies and ultimately lower those cooking fire stats above.
FireBot is fire suppression system that's installed above the stovetop/cooktop. FireBot goes beyond a normal smoke detector that alerts occupants of a fire. It is equipped with thermal sensors that detect any uncontrolled fire on the stovetop and a fire suppression system that releases a spray of a proprietary, non-toxic liquid to extinguish the fire long before it can spread throughout other areas of the house. Because it mounts directly over the stovetop, it will activate before residential sprinklers, preventing unwanted water damage that can cause millions of dollars in property damage. FireBot is battery-operated with a 10-year life.
FireBot is easy to install in minutes. There are three methods of installation, depending on your stovetop configuration. The required tools include a drywall mount, 3M two-sided adhesive for smooth backsplashes, or a set of universal microwave brackets that allow the device to be suspended from your microwave. FireBot does not require a water hookup or electrical connection to operate.
FireBot has three audible alarms to inform the user:
Low battery alert that signals when to replace a battery.
High-temp alarm alerts the user that there is an unusually high temperature on the cooktop, and there could be an activation unless the temperature is lowered.
Activation alarm signals the FireBot is activating and will sound for one minute as the unit extinguishes the fire on the cooktop.
According to FireBot, "False alarms are prevented by utilizing a proprietary algorithm developed by our team that can detect the difference between cooking and an out-of-control fire." 
FireBot's wireless capability can notify the homeowner (or anyone on a predetermined list) via text, call or email if any of the alerts above occur.
It's also good to note that FireBot successfully passed the UL300A fire safety standards 13 tests created by UL (Underwriters Laboratories) multiple times with cooking oil fires up to 1,600 degrees F, making it an extremely dependable system.
As noted, FireBot is quick to control cooktop fires before they can spread into the cabinets above the stove, into the attic as well as the rest of the house. This quick extinguishment is wonderful for homeowners, but it also assists firefighters by holding the kitchen fire in check until they can get on the scene and ensure that it doesn't spread beyond the cooktop. Firefighters are tasked with the reduction of risk and injury to the occupants, and quick extinguishment is very high on the list as a way to complete that important task. Furthermore, FireBot not only helps firefighters by keeping the occupants safe, it also reduces the risk to firefighters as the system doesn't allow the fire to grow into a much larger fire. 
Bottom line: FireBot has kitchen fires covered and will save not only lives but billions of dollars of damage as well. Learn more at FireBot Fire Suppression Systems.

Request information from FireBot
Thank You!