How to buy fire department records management systems (eBook)
Download this FireRescue1 fire department records management systems buying guide to learn key steps for product selection, purchasing and implementation
---
To download your free copy of "How to buy fire department records management systems (eBook)" Buying Guide from Fire Chief, fill out this form.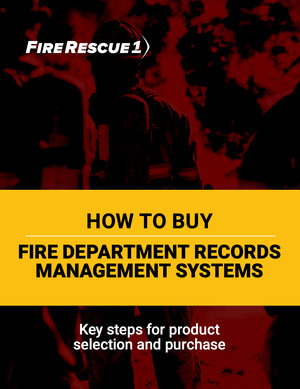 In today's information age, it's imperative that fire department leadership can collect and analyze data about its service delivery (e.g., EMS patient care, fire suppression, hazmat, technical rescue) and its personnel management (e.g., demographics, time and attendance, injuries, workers' compensation claims).
And while many fire departments may currently have a records management system (RMS), changes in regulatory requirements and available technology are two factors driving the need for a fire department to have an RMS that can evolve and grow with the department. 
But not all vendors have responded to these changes with viable solutions, and more fire departments are finding themselves dissatisfied with their current RMS and looking to replace it. Or a fire department has grown to the point where its leadership realizes it needs an RMS. For the former, while there is always a level of risk involved in switching software, there are also many benefits. For the latter, there's never been a better time to obtain an RMS that can meet your current and future needs. 
In this FireRescue1 How-to-Buy Guide, we will discuss how RMS applications can impact your fire department, and best practices to help guide your vendor selection activities and better prepare you to mitigate the risks when procuring an RMS. 
Included in this guide: 
RMS benefits
Key considerations before buying
Questions to ask vendors
Company directory
To download your free copy of "How to Buy Fire Department Records Management Systems" Buying Guide from FireRescue1, fill out this form.