PRESS RELEASE
First Due ranks #1 fire & EMS software provider and among the top 100 software companies on 2023 Inc. 5000 list
---
First Due is honored to land on Inc.'s 5000 2023 list as the fastest-growing fire and EMS software company for the second year
NEW YORK — First Due is honored to land on Inc.'s 5000 2023 list as the fastest-growing fire and EMS software company for the second year. The Inc. 5000 list includes many inspiring companies solving some of the nation's most complex issues. With a three-year growth of 838%, First Due proudly ranks as the 92nd fastest-growing software company and the 700th fastest-growing company on the list.   
Since its launch in 2016, First Due has become a leader in fire and EMS technology across North America. First Due's CEO and Co-Founder, Andreas Huber credits much of the company's success to its customers. Huber states, "Our customers remain at the core of everything we do. Their invaluable feedback drives our team to tenaciously fulfill our mission—to provide fire and EMS agencies with the most comprehensive software suite ever built, enabling them to operate at the highest and safest levels possible."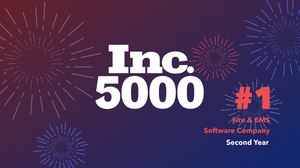 First Due proudly serves North America's first responders. Huber explains, "Fire and EMS agencies face more complex challenges than ever, and with outdated and disconnected software, they struggle to keep up, let alone innovate. First Due's world-class team of software and public safety professionals deliver a product for fire departments and EMS agencies to streamline and consolidate current fragmented systems." 
By working closely with first responders, First Due continues to build the most robust end-to-end software solution for every aspect of emergency operations and prevention, no matter the size or location of an agency. Under a sole login, customers can consolidate NFIRS, ePCR, fire prevention, pre-incident planning, scheduling, personnel management, asset and inventory, hydrants, training, community risk reduction, mobile response, advanced data analytics, payment for services, and more.   
For the complete results of the Inc. 5000, including company profiles and an interactive database, visit www.inc.com/inc5000. The top 500 companies are featured in the September issue of Inc. magazine, available on newsstands beginning Tuesday, August 23. 
For more information about First Due, visit www.firstdue.com. 

Request more info from First Due
Thank You!