Lighter battery-powered tools take on modern vehicle crash extrications
High-Tech hydraulic rescue tools from Holmatro meet the challenge of today's ultra-high-strength steels
---
Sponsored by Holmatro
By Robert Avsec for FireRescue1 BrandFocus
Rescuers extricating patients during vehicle crash emergencies face the increased strength of materials used in vehicle construction. Known as advanced high-strength steels, they can yield strength in excess of 780 megapascals, according to World Auto Steel. Imagine battery-powered extrication tools that are not only lighter and faster, but can also read the application they're working – like those high-strength steels and alloys – and get the job done without drag or loss of force.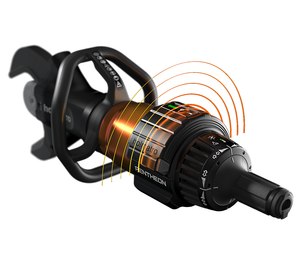 Holmatro's Pentheon Series battery-powered extrication tools are smart tools built to address challenges that have long plagued firefighters in their rescue missions. For vehicle crash extrications, the Pentheon Series of rescue tools provide unparalleled speed, ultimate control and longer working time when you need it most.
THE PENTHEON SERIES
Holmatro has engineered the Pentheon Series of battery-powered tools from the inside out to create hydraulic rescue tools that are lighter and more compact in design and easier to manage on a fire truck.
This line of rescue tools features a unique two-mode control handle that gives you speed control at any time during a rescue operation. Within these two modes, the speed is proportional to how far you turn the control handle to its left or right, which is essential for tasks like cutting through auto door hinges.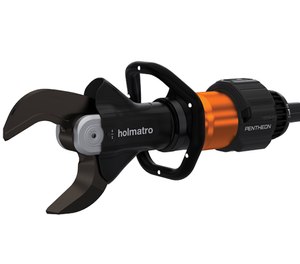 INSIDE HOLMATRO'S SMART DESIGN
According to Dan Crowbridge, Holmatro's rescue and training consultant, the Pentheon Series' advanced design started with the pump. "We have always built our own pumps. We know what we want to achieve, and the engineers figure out how to make that achievable and design it to meet that criteria."
All hydraulic rescue tools have one thing in common: a sealed system that moves the prescribed volume of hydraulic fluid to achieve pressure in the tool. 
Crowbridge described how Holmatro engineers were given the freedom to design from the outside in.
This is what we want to achieve. It can be as far-fetched as anybody can imagine," said Crowbridge. "Basically, they started with a clean piece of paper and they wrote down everything they wanted to have, whether it was currently achievable or not."
The engineers determined the number of plungers that are necessary in a pump, how big or how small they needed to be to get the flow and pressure needed for optimal tool operation. This resulted in a much smaller and lighter pump. "In addition, our engineers found a way to integrate the motor and pump, which allows for a slimmer and more compact tool design", said Crowbridge.
Holmatro's new Pentheon tools are more than just compact and powerful: They're smart, too. The key element is a mechatronic drive system that precisely controls the motor and pump settings. And for the tool's operator, it means that at any given battery capacity, a Pentheon tool is going to deliver a maximum flow at every pressure/force. More simply? Pentheon tools give you the highest possible speed over the full pressure range. 
HOLMATRO'S SPEED OVERHAUL
A mechatronic pump is a mechanical pump that is electronically controlled to improve efficiency in its performance. This unique feature of the Pentheon line's pump is made possible using Holmatro's patented Stepless Speed Maximization system that automatically shifts a tool into higher speed than it would normally have, without loss of force, to deal with higher loads like those encountered with cutting the high-strength steels used in modern automobiles. So when a tool needs more force to cut the high-strength steels found in new model cars, there's no significant drop in speed.
The mechatronic pump uses both pressure and flow sensors to gauge its need to switch gears, or stages, continuously. "Whatever the tool's operator is trying to achieve, the tool itself will seek maximum peak performance to do that. One moment it may need a little more volume to give the working end of the tool some more speed, but then suddenly it may need a little bit more pressure in order to overcome an obstacle or a force, either a spread or a cut," said Crowbridge.
Watch the speed and power of the Pentheon Cutter PCU50 versus the Holmatro CORE Cutter CU 5050 as both are used to cut the B-pillars of a late-model Volkswagen Golf automobile.
Crowbridge compares Stepless Speed Maximization to an automatic transmission in an automobile when using cruise control. "When you're driving up a hill, and then the hill flattens out, and then you get a little bit more grade in the hill, your car just automatically keeps shifting for you to be able to maintain that speed that you're trying to achieve," said Crowbridge. "In our case, the mechatronic pump is automatically shifting to maintain the performance and the capacity of the tool to meet the tool operator's needs."
A SMART BATTERY SYSTEM IMPROVES PERFORMANCE
The Pentheon Series battery system plays just as big a role as the pump in making a battery-powered rescue tool for the 21st century. Both tool and battery temperatures are monitored to prevent shut-off. At the highest temperatures, the Pentheon Series' Temperature Management Technology shifts the tool to a lower power setting – without loss of force.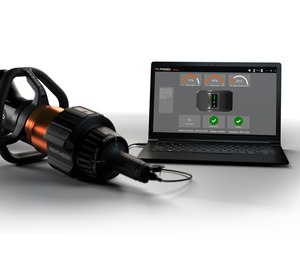 LED indicators provide real-time feedback on tool temperature, maximum pressure reached, battery temperature, battery state of charge and battery state of health. Another battery management feature is the diagnostic software program.
Fire departments can load the program on a desktop or notebook PC and review battery condition just by plugging the battery into the computer. The software helps answer questions like the following:
How many times has the battery been charged?
Are all the battery's cells healthy?
According to Crowbridge, with the program you can make more informed supply purchasing decisions. Without knowing, a fire department could end up replacing perfectly good batteries, from a budgetary standpoint. "They may think, 'Well, it's a three-year-old battery, I probably should replace it before something happens,' and the battery could actually still be good," said Crowbridge.
For more information, visit Holmatro.
NEXT: Hydraulic extrication tools powered from the ground up

Request information from Holmatro USA
Thank You!