Niagara Falls plunge survivor refuses rescue
---
By Carolyn Thompson
The Associated Press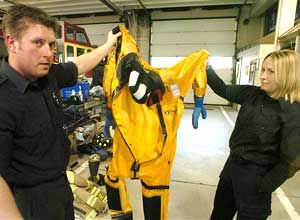 AP Photo/Dan Cappellazzo
Brunning, left, and a suit used in the rescue attempt
NIAGARA FALLS, Ontario — The 30-year-old man had been shoved 180 feet down through a thundering curtain of water with a force greater than gravity and now bobbed in the frigid water below Niagara Falls.
Only two people had ever been known to survive such a plunge unprotected by a barrel or other contraption, but when Niagara Parks Police Sgt. Chris Gallagher scrambled down a steep and mist-slickened escarpment to the water's edge, he could see the man 40 feet out, alive.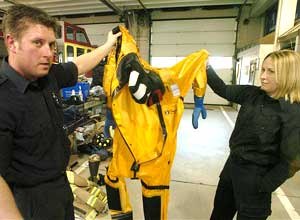 Gallagher shouted, urging the man to swim toward him. The man yelled back, refusing.
Rescue workers here know all too well that jumping over Niagara Falls is a most efficient way to commit suicide, though they closely protect the number of victims they retrieve. The man who survived Wednesday's fall avoided any number of hazards.
"First of all, that he's able to survive the fall over the Falls, but secondly, that he's able to survive in that cold water for 45 minutes — that on its own is pretty remarkable," Niagara Parks Police Chief Doug Kane said.
Authorities will not release the man's name, only saying he is a resident of western Ontario. He was in stable condition Thursday, undergoing treatment for hypothermia and a head wound, with relatives at his side.
"He is expected to make a full recovery," Gallagher said.
'Deadly obstacles'
It was 2:11 p.m. Wednesday when tourists saw the man climb over a retaining wall and jump into the rushing river. In seconds, he was at the bottom.
He avoided being knocked unconscious by the rock formations at the base of the Falls, but that was just the beginning of the deadly obstacles he dodged. The water underneath the Falls is just as lethal. An estimated 37 million gallons rush over the brink every minute.
"You have the water coming down at a very high velocity and therefore it sinks into the bottom and this creates both undertows and whirlpools," said Dr. David Pendergast, a physiology and biophysics professor who directs the University at Buffalo's Center for Research and Education in Special Environments.
"What usually happens," Pendergast said, "is once the person hits the water, they're actually sucked underneath the water and then they're spun around under there, and even if the person holds their breath, within a couple of minutes they would no longer be able to and they would drown."
Because of the great depth — about 180 feet — victims can stay stuck in that underwater turbulence for days before being released to the surface.
On Wednesday, the man managed to land in a place of less churning and was pushed to the surface almost immediately.
Near freezing
Niagara Falls firefighter Todd Brunning, who swam out and wrapped his arms around the man's chest so that crews could pull them to shore, said the man was lucky to have gotten caught up in a small eddy, which protected him from the overpowering current.
But on this winter day, the cold was yet another threat. The water temperature hovered just above freezing.
Immediately upon entering the cold water, the body starts restricting blood flow to the hands, feet and ears as it works to keep the vital heart, lungs and brain warm at the expense of all else, Pendergast said. As the body temperature drops, both the heart and brain are at risk for failure.
The survivor had no clothes to help insulate. Pendergast theorized they were pulled off by the water.
"The base of the Falls is just like being in a washing machine," he said.
Once at the surface, however, body fat and air in his lungs kept him afloat, Pendergast said.
Gallagher would not reveal what the man said to him as he stood on shore encouraging him to swim. "He was cognizant. He heard and replied but he was unwilling to cooperate," he said.
The last man to survive a trip over the Horseshoe Falls, the largest and most powerful of Niagara's three cataracts, was Kirk Jones, who said he was depressed Oct. 20, 2003 when he entered the water about 100 yards from where Wednesday's survivor did and emerged with broken ribs and a bruised back.
"The water was like an ice bath," he said two months later. "The pressure was so great I thought it would rip the head from my body."
Although Jones was fined $2,260 after being charged with mischief and illegally performing a stunt, Wednesday's survivor will face no charges, Gallagher said.
In 1960, a 7-year-old boy, Roger Woodward, survived a trip over the Falls wearing a life jacket after a boating accident.

Request product info from top Rescue Equipment companies
Thank You!