One of Europe's premier fire service events is coming to America's shores
INTERSCHUTZ USA will bring the world's best in fire and EMS training, equipment and technology to Philadelphia in October 2021
---
Content provided by INTERSCHUTZ USA
As the world begins to reopen, the fire service needs to train and gather more than ever. INTERSCHUTZ USA fills that need, bringing to America what audiences around the world have always enjoyed at INTERSCHUTZ (Germany), a success story that dates back more than 60 years. The show, taking place this October, will showcase the world's best in training, equipment and technology for firefighters, fire rescue personnel and EMS personnel.
This October 13-16, Philadelphia, PA will be transformed to a hub for the fire service and related outfits, featuring three full days of exhibits including fire service manufacturers, providers and resources from the U.S. and around the world. Attendees can participate in intensive workshops, three days of comprehensive conference sessions, product demonstrations and networking opportunities available to all attendees.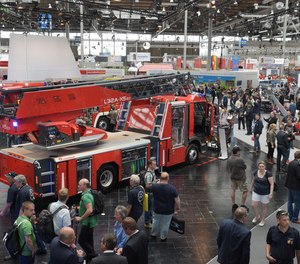 Conference sessions and trainings at the show will discuss timely topics for the fire service and will be led by highly-vetted instructors. The show's Incident Management sessions are now live at interschutzusa.com/training. The remaining conference sessions will be made public throughout the summer on a track-by-track basis, including an Instructor Track in partnership with the International Society of Fire Service Instructors (ISFSI), content around Recruitment and Retention, content around Diversity & Inclusion, a Leadership track and EMS content.
Show Manager Rachel Lesczynski is excited to get this year's show off the ground: "INTERSCHUTZ USA brings the global fire service perspective to the U.S. It is vital that we engage fire service leadership from around the world, not only to identify topics and need but also to secure appropriate instructors. Support from the Conference Advisory Board, Philadelphia Commissioner Adam Thiel and the global INTERSCHUTZ family was instrumental in our ability to bring this conference to Philadelphia; being able to finally gather again in person will give attendees the chance to experience hands-on demos and face-to-face interactions with peers."
Activity and Education Leading up to the Show
With training needs as they are in the U.S., INTERSCHUTZ USA knew it could create opportunities to keep the fire service engaged even before in-person events were ready to take place. Show organizers created the INTERSCHUTZ USA Digital Shift, a year-round webinar series. Each session, taking place at least once per month, covers a specific issue like "Making the Case for the Half-Story in Your Size-Up," which took place on May 18. Presenters include leaders in the U.S. fire service, INTERSCHUTZ USA speakers and Conference Advisory Board members. Content leading up to the show will be released soon, between show conference session announcements.
All Digital Shift webinars are free with advance signup. To learn more and participate, visit https://interschutzusa.com/webinars/
International Perspectives and EMS
INTERSCHUTZ USA will provide expertise and perspectives from around the world on common fire service topics. The show aims to provide the opportunity for broader views and conversations among a global fire service united in protecting its citizenry. 
Similarly, INTERSCHUTZ USA 2021 will offer dedicated EMS/Rescue content. Too many U.S. fire rescue events fail to address this in their curriculum, even though an incredibly high percentage of fire service responses are EMS. INTERSCHUTZ USA changes that paradigm.
Building on a Strong History
The Philadelphia fire community has provided local support to make sure the event is not only a valuable training opportunity but also an exciting opportunity to network with peers and industry leaders. When combined with the city's access to the eastern U.S. – Philadelphia is within a four-hour drive of 44% of the U.S. fire service – its strong sports presence, renowned American history, phenomenal dining, shopping and more, it is clear why Philadelphia will be the place to be this October.
The leading brand in fire and rescue
INTERSCHUTZ USA is the most recent addition to the INTERSCHUTZ Worldwide portfolio, which includes AFAC (Australia), CEFE (China) and REAS (Italy). Audiences around the world have enjoyed the unique emotional experience, personal encounters and feeling of common purpose provided by INTERSCHUTZ (Germany), the world's largest trade show for fire and rescue services for over 50 years. Taking place every five years in Hannover, Germany, INTERSCHUTZ attracts a unique mix of commercial and non-commercial exhibitors. Companies unveil their latest innovations at the show, while fire and rescue service professionals show the latest in equipment and systems in action on an outdoor demonstration ground.

Request information from INTERSCHUTZ USA
Thank You!