Q&A: Why and how fire leaders should embrace change
Spokane Fire Chief Brian Schaeffer weighs in with his thoughts on innovation in the fire service and the important role that leadership plays
---
This article is the first of a two-part series on innovation in the fire service.
Sponsored by IDEX Fire & Safety
By Laura Neitzel, FireRescue1 BrandFocus Staff
Shifting an ingrained mindset to adopting a new way of thinking is a challenge in any industry. In a field like firefighting, where time-honored processes and traditions rule, the challenge can be even greater. How do you convince traditionalist fire chiefs and old-school curmudgeons that many long-standing problems can be solved using new technology – but that requires having an open mind about technology?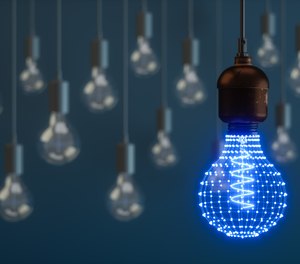 For this Q&A, I asked Spokane, Washington Fire Chief Brian Schaeffer to weigh in with his thoughts on how forward thinkers in fire agencies can get their leadership to embrace innovation (or at least keep their minds open to it). Chief Schaeffer is a fire leader with over 32 years of service to the industry and to the community. He holds a bachelor's degree in Fire Science, a master's degree in Public Administration and is in the final stages of his doctoral education at Creighton University.  He serves on numerous local, state, and national public safety and health-related committees and frequently lectures on issues involving innovation, leadership, and contemporary issues in public safety technology.
THERE IS A MYTH THAT FIRE AGENCIES ARE RESISTANT TO CHANGE. WHAT ARE SOME OF THE INNOVATIONS AND IMPROVEMENTS OVER THE LAST 100 YEARS THAT HAVE SINCE BEEN EMBRACED AND MAY EVEN BE UBIQUITOUS IN THE FIRE SERVICE NOW? 
Historically, our industry has been resistant to change – we even celebrate our laggardness at times with commemorative statements like "…tradition unimpeded by progress." There needs to be a clear differentiation, however, of the terms "tradition" versus "change." The fire service is unique and share organizational characteristics with only a few other disciplines like the military and law enforcement. For instance, we are organized as a paramilitary organization that is very hierarchical, sworn into service, and expected to be in uniform. We face the deadliest of risks, work 24-hours or longer together, and at times are expected to perform miracles. Over a long period and reinforcement, those features and expectations from the public have built a unique culture that thrives on tradition. Tradition is so important to us because each tradition customarily represents a part of our job proven to work.
Moreover, due to our mission's criticality, many agencies are averse to trying anything different due to even the most remote possibility of an unsuccessful outcome.  We do not need to look very far back in our history to recognize significant innovations that traditionalists fought at the time of their introduction. Tools such as motorized apparatus, self-contained breathing apparatus (SCBA), personal protective ensembles (PPE) that included bunker pants, computer-aided dispatch (CAD), and hundreds of other innovations were commonly rejected by the traditionalists. I openly admit that on some of those latest innovations, I was one of the traditionalists still pushing back. I was so disheartened to change my traditional helmet that originates from a dead animal hide to a new model repeatedly proven to be safer. I loved my pull up boots and still miss them to this day. I repeatedly tried to game and out plan the CAD when I worked on the street. I get it. 
There is no hypocrisy to my reflection above—only a realization that tradition and change can exist together. Our industry has affectionately embraced the motorized fire apparatus, the SCBA, PPE, CAD, HazMat, and even EMS. The magic is how those changes finally become pervasive. It starts and ends with values-based leadership.  
HAVE THE GOALS OF THE FIRE SERVICE CHANGED IN THE PAST 100 YEARS? (MY GUESS IS "NO.") IF NO, THEN HOW CAN YOU ASSURE FIRE LEADERS THAT EMBRACING INNOVATION IS GOOD?
The fire service's general mission remains the same as it was in the 18th Century – to protect lives and property. In those days, the primary risk to lives and property was a fire. As we matured and became more complicated as an industry, so did the world around us. In response, fire service leaders were segregated into two essential mindsets. One group, namely a progressive group of leaders, looked to innovation and new practices that encouraged a growth mindset. They grew their organizations to incorporate more services and offered their communities solutions to growing societal problems and new emerging risks. The second group remained loyal to the focus on the prevention and reaction to fire in the community. While the same opportunities presented themselves during the centuries, this group resisted change and remained in a fixed mindset. The timeline of innovation occurred organically through history, and other industries adopted innovations leading to improved construction and code improvements. All those passive innovations led to a reduction in fires nationwide. 
If we looked today at those two bifurcated groups and what their organizations have become, there would likely be a distinct difference if variables like political influences and leadership changes were not present. Fortunately, leadership plays a large role in predicting success, especially considering how innovation occurs around us.
WHAT IS THE LEADER'S ROLE IN FIRE SERVICE ORGANIZATIONS TO EMBRACE INNOVATION?
In a business technology context, innovation can be defined as a new service, product or technique introduced to meet an external user or a market need. In the fire service, innovation can be defined as a service, tool, or technique that enhances or improves a fire service core value. Considering the introduction of SCBAs, we were told to use them if they were available. The why, and likely the reason they were finally embraced, was due to realizing that our searches and work cycles were improved, thus enhancing the value of protecting life (civilians and fellow firefighters).  
ARE THERE ANY THEORIES OF ORGANIZATIONAL CHANGE YOU CAN POINT TO THAT MIGHT BE RELEVANT TO THE FIRE SERVICE?
There are not enough shelves to hold the number of books written by leadership theorists today. We often hear of the critical need for leadership. Labels such as crisis leaders, chaos leaders, results-driven leaders, character-driven leaders, heroic leaders, innovative leaders, tribal leaders, and so many more are prevalent in just about every crisis or contemporary news story with controversy. How we describe these attributes is as confusing as the issues we are facing. Each leadership attribute usually originates from an ideologically-driven place. In other words, the need for an attribute implies that every other type of leader, except the type it is calling for, is ineffective and a better way exists. 
Here is where values play an essential role.
Values are an abbreviated way of explaining what is important to us individually or collectively. Values are concepts represented in one word or a short phrase. For example, trust, transparency, empathy, bravery, and honor are universal fire service values. Behaviors from organization members and leaders then are typically outward facing demonstrations of those values. 
The leaders' role, especially in our highly globalized and technology-induced world we find ourselves in, is to add value to people – period. To make that statement is straightforward but measuring a leader's effectiveness is hard because we would need to measure the leader's ability to change others' attitudes or behavior. In fire service organizations where chief officers lead, their values are demonstrated continuously through their actions, communications and decision-making. A chief's actions speak louder than any words, and written communication that identifies the organization's values creates the most potent combinations.
DO YOU THINK SUCCESSES IN INNOVATION WILL OPEN THE DOOR TO FIRE DEPARTMENTS MORE READILY ACCEPTING MORE TECHNOLOGY ADVANCES IN THE FUTURE?
I do.  The challenges of technology adoption by fire service leadership will undoubtedly continue to increase. Upcoming leaders in the fire service will need new additional competencies to be successful: 
Chief officers will no longer have the ability to ignore technology as the most basic requirement to accomplish their work. Leaders will need to have an inherent knowledge of the technologies and the intuition to know which investments are force multipliers.
Leaders will need to develop a business intelligence mindset and the determination to demand measurable returns with investments in technology.  
Fire Service leaders must ensure that sufficient investments are made to support a diverse amount of internal and cloud-based resources within an everchanging, globalized and connected world; and, most important,
Chiefs need to understand and appreciate what resources it truly takes to get the right things done with technology.
In fire service organizations, leaders must realize that innovation is critical to our survival. We must focus on constant improvement in an environment marked by rapid technological advances, shortened technology life cycles, and globalization of everything from finance to pandemics – all within the context of a foundation of the tradition that includes commitment, trust, caring, teamwork and bravery.
Read next: When IDEX met SAM: A match made to improve safety on the fireground

Request information from IDEX Fire & Safety
Thank You!