Safe, effective and efficient stabilization for today's MVC
The Junkyard Dog (JYD) ZStrut Rescue Strut uses a uniquely-engineered deployment method that eliminates the need for pins altogether
---
By Robert Avsec for FireRescue1 BrandFocus
Dispatch: "Station 6, Truck 2, Ambulance 402, respond to the vicinity of the 5100 block of Garfield Road for a reported MVC, vehicle, possibly off the road. Time out 2145 hours."
As you and your crew on truck head out of the station, you're trying to get a picture in your mind of what this MVC looks like and what, if any, extrication will be required by you and your people. And while that's a lot going on in your head, one thing you're not worried about is your crew's ability to stabilize the vehicle, regardless of its orientation, because your fire department has invested in the ZStrut stabilization system from JYD Industries.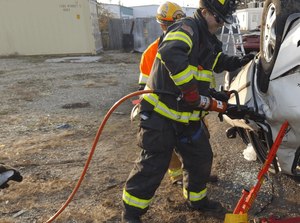 "Firefighters trust our struts because, after hearing us tell them that our struts are simple to use and extremely effective in stabilizing a vehicle, they go out and they use them and find out it's true," said Laura Miller, director of marketing and sales at ESI Equipment, Inc., the parent company for JYD Industries. "Whether it's a training exercise or a real call, they see for themselves that our struts are what we say they are and do what we say they can."
VEHICLE STABILIZATION BASICS
You know that vehicle stabilization is about stopping or preventing unwanted movement by the vehicle as you and your people begin working to gain access to the patient, treat them and extricate them from the crash. A good example of the challenge you're looking to overcome is provided in Figure 1 below.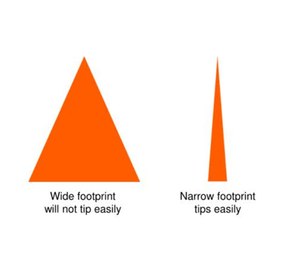 In years past, it was easier to accomplish vehicle stabilization when an MVC resulted with the vehicle not winding up on its wheels. For the most part, the surfaces of older cars were flat and made of steel. Firefighters could jam a couple of wooden wedges or cribbing blocks and gain enough surface area with the ground to keep the vehicle stable during extrication operations.
But newer passenger vehicles are a different animal. Vehicle design engineers, in their pursuit of lighter and more aerodynamic automobiles (to improve gas mileage ratings) began creating vehicles with more rounded and aerodynamic body styles. Additionally, advances in steel production technology and carbon fiber technology and plastics used to manufacture those designs have resulted in a vehicle that acts like a spring when it rolls or bounces (Figure 2).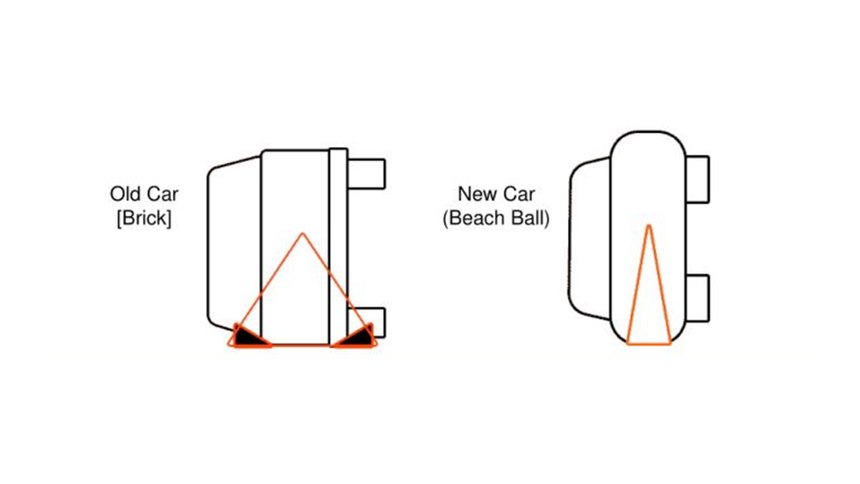 A BETTER WAY TO STABLIZE THE MODERN PASSENGER VEHICLE
The best way to stabilize a "beach ball" car is with tensioned buttresses. A buttress is simply a column (in this case, a strut) tipped over with its top anchored to the car. Next, a tensioning device (ratchet strap) is used to pull the base of the strut towards the car thereby applying an even force to the car in both a sideways and upward direction (See Figure 3 below).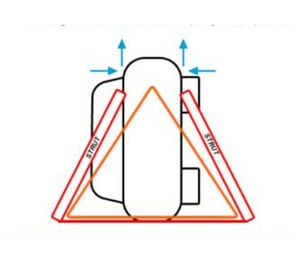 With more than 15 years of experience as a paramedic before starting JYD Industries, John Evans, JYD's owner and president, has seen his share of "knotty problems" when it comes to vehicle extrication. "We often hear many people referring to stabilization of the vehicle," said Evans, "but the goal should be to create a safer environment for firefighters to work, and paramedics to treat patients. Because the sooner stabilization is achieved, the sooner you're able to get that patient to a definitive care facility."
Better vehicle stabilization that leads to safer operations is what the ZStrut – and the entire family of struts from JYD Industries – is all about.
ZStrut Rescue Struts are JYD's flagship strut system and that's in no small part due to their patented ZipNut technology, a uniquely engineered deployment method that eliminates the need for pins altogether.
At the MVC scene, a firefighter simply pulls up on the ZStrut to achieve the required length, turns the strut's collar to fine-tune the adjustment, then pulls up on the collar to retract – no pins required!
With ZStrut Rescue Struts, fewer firefighters can more safely, effectively, and efficiently deploy the necessary struts, meaning that your remaining firefighters are available to engage in other critical vehicle extrication tasks (e.g., hazard control, deployment and operation of rescue tools, providing patient care).
Firefighters can deploy the ZStrut with confidence knowing that the struts have a safe working load limit up to 5000 lbs. with a 2:1 safety factor (results of testing conducted by independent third-party).
"What's the best thing firefighters like about the ZStrut? They trust them," said Miller.
WHAT YOU GET WITH YOUR ZSTRUT RESCUE STRUT
For starters, your fire department gets a completely self-contained strut system that gives your firefighters a vehicle stabilization system that's easier to deploy for safer, more effective, and more efficient vehicle stabilization with fewer personnel. And the sooner a vehicle is stabilized, the better for your firefighters and the patients they're working to remove from the vehicle.
From a technical viewpoint, the ZStrut's polymer coated base provides a better grip while the base and clevis operate separately so base will stay flat on the ground. A larger clevis allows for a firefighter to more easily pass the ratchet strap head through for single strap triangulation while the 304 stainless steel-threaded rod gives a firefighter the capability of making an infinite number of adjustments to meet any vehicle stabilization challenge.
Lastly, the ZStrut's patented ZipNut technology gives the firefighter more capability to make those finer adjustments to maintain vehicle stabilization that follows along with other vehicle extrication tasks (e.g., air bag lifts).
And all the ZStrut's components fit into its specially designed accessory bag that's attached directly to the strut ensuring that a firefighter has everything they need for deploying the strut without having to return to the fire apparatus (And after deployment, the accessory bag functions as a repository for excess ratchet strap to eliminate any tripping or entanglement hazard).
See for yourself why the ZStrut Rescue Strut from JYD Industries is the rescue strut that your fire department needs to better meet its vehicle stabilization needs at an MVC.

Request information from Witmer Public Safety Group, Inc.
Thank You!