Video: Ladder rescue of man clinging to 6th floor window at LA high-rise fire
The man climbed from a window to escape the heat and is now in critical condition; others rescued by helicopter from roof
---
By Laura French
LOS ANGELES — A 30-year-old man who climbed out of a window close to where a fire began on the sixth floor of a Los Angeles high-rise on Wednesday was rescued by firefighters on a ladder, video shows. 
Video captured from outside the building and published by ABC7 News shows the man clinging to the outside of the building and inching toward the firefighter on the ladder for about a minute before being rescued, prompting cheers from onlookers. 
Dark smoke can be seen emanating from the window the man apparently climbed out of. 
The man had left through the window and clung outside the building "due to the intense heat," according to the Associated Press. He reportedly seemed to be preparing to jump before firefighters calmed him down. The man is currently in critical condition at the hospital, Los Angeles Fire Department Capt. Erik Scott said during a press conference.
Several other residents fled to the roof of the 25-story apartment building and were rescued by helicopter. Authorities said seven residents were hospitalized after the blaze, including a 3-month-old baby. Two firefighters also sustained minor burns attempting to reach the room where the fire began. 
"These firefighters were literally driven to their bellies halfway through the hallway," said Scott. 
Another fire at the same building in 2013 displaced 100 residents and injured several. Fire officials said there were no sprinklers in the building at the time of Wednesday's fire.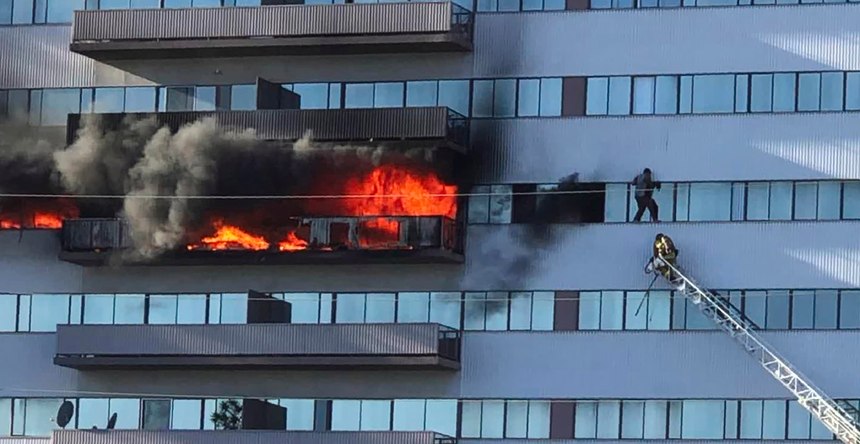 Request product info from top Rescue Equipment companies
Thank You!