When is a helmet more than just a helmet?
When it's a helmet born out of a father's love for a daughter lost.
---
By Robert Avsec for FireRescue1 BrandFocus
Dan T. Moore launched Team Wendy in 1997 to honor the memory of his daughter, Wendy, who suffered a traumatic brain injury (TBI) while snow skiing – an injury that took her life. Moore and his colleagues at Team Wendy have made it their mission to provide the best possible brain protection from blunt force trauma. Initially, that took shape in developing award-winning protective helmets for skiers and snowboarders and other winter sports enthusiasts.
The company parlayed those successes into collaboration with U.S. military services (U.S. Army and U.S. Marine Corps) to put Team Wendy's array of patented open-cell polyurethane foams – designed specifically for impact mitigation and energy absorption – into liners for the warfighter's standard-issue helmet.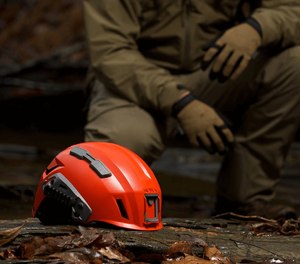 Protection for Search and Rescue Teams
It's no surprise that a company born out of a father's loss of a daughter enjoying the sport she loved outdoors would come to provide better brain protection for those women and men who dedicate their lives to outdoor search and rescue (SAR) teams and service to others in need of rescue.
The company took those experiences – developing brain protection for winter sports enthusiasts and military personnel – and developed a purpose-built head protection system for the SAR community that better supports its mission requirements. The result was the EXFIL SAR Tactical, the company's first purpose-built SAR helmet, which made its debut in 2015.
Weighing in at just 1.59 lbs. (0.72 kg) the EXFIL SAR Tactical just might be the most comfortable helmet you've ever had on your head and the most protection for your brain as well. Team Wendy's patented Expanded Polystyrene Impact Liner, featuring the company's Zorbium Foam Comfort Pads in two thicknesses, provides protection on the inside while the helmet's high-strength Lexan polycarbonate co-polymer shell is prepared to take the hit on the outside.
It's also a helmet designed to stay on your head, whatever the circumstances, with its 4-point CAM FIT retention system (with chin cup for optimal stability). The helmet's Boa Closure System enables you to dial in a precise fit adjustment and release in a hurry using a single-handed quick release if necessary.
Team Wendy's design engineers have developed a SAR helmet that provides the user with the capability for a variety of tactical accessories, while meeting key industrial and mountaineering standards, including:
EN12492:2012 Standard for Mountaineering Helmets
EN1385:2012 Standard for Whitewater Helmets
Advanced Combat Helmet blunt impact requirements (per AR/PD 10-02 Rev A)
Additional off-crown impact requirements of EN 14052:2012 European standard for high-performance industrial helmets
(For fire departments, NFPA 1855: Standard on Selection, Care, and Maintenance of Protective Ensembles for Technical Rescue Incidents, is the applicable standard).
Add-on accessories add capability
The helmet's SAR Accessory 2.0 Rail System provides the user with a helmet that is ready, willing, and able to work better with protective goggles, night vision goggles, lights, and other small equipment. (The Rail 2.0 Accessories Kit is sold separately.)
The EXFIL SAR Tactical has two goggle posts (bungee strap interface) that you can install securely in seconds and that are fully compatible with Smith Optics ELITE quick straps (Boogie Regulator, OTW, and LOPRO). This provides more secure, more consistent goggle placement than using Velcro type hook and loop strapping. It also frees up space on the back of the helmet for counterweights to offset any night vision goggles that you might have mounted up front.
The EXFIL SAR Tactical also includes two Magpul MOE picatinny-style rails and mounting hardware that provide an alternate mounting point for lights and other small accessories. You can also use the EXFIL Peltor Quick Release Adapters for mounting of earmuff-style hearing protection or communications headsets.
The Company That Gives Back
The impetus for Team Wendy may have been the tragedy of Dan T. Moore losing his daughter but he and the company honor Wendy Moore's legacy every day. They do it through their support of other groups that seek to advance the common good, like:
Foundation for Exceptional Warriors (The Few)
IFB Solutions
Luke's Wings
Mission 22
Mission Volant
National Industries for the Blind
Ranger Road
Troops Direct
VeloSano
Vested Interest in K9s, Inc.
Veterans Moving Forward
VisionCorps
You can learn more about Team Wendy's philanthropic efforts for those organizations, as well as how those groups work to make their communities better with Team Wendy's support by visiting https://www.teamwendy.com/about/corporate-social-responsibility.

Request information from Witmer Public Safety Group, Inc.
Thank You!