PRESS RELEASE
Attend MatJack's Lifting Cushions Factory Training/Certification Class September 10-11, 2011
---
MatJack Jumbo Safe Lift Cushions is pleased to announce the dates for the 2011 Factory Training/Certification Class: September 10-11, 2011 in Indianapolis, Indiana.
This class offers attendees the most comprehensive in-depth practical use of air bags/cushions offered anywhere in the US and Canada.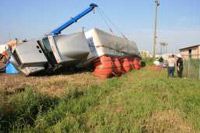 This will be an intensive two day class involving both classroom and practical instruction by several factory certified trainers who have extensive "in the field" resumes with the use of this equipment.......featuring Internationally recognized industry trainer Howard L. Eagan. In addition to Mr. Eagan, Jeff Martin and James Dougherty of BTR Training & Consulting, along with John Sweezy JR President & CEO of Matjack/International Wreckers Jumbo Safe Lift.
Additionally, attendees will also have the opportunity to be trained on the use of Landing Cushions, which is the newest pneumatic technological advancement into the recovery field.
No matter what brand of bags/cushions you or your personnel are using, this class will be informative. Haven't used your bags/cushions in awhile? Do you have personnel that haven't had the opportunity to be formally trained/certified? Maybe need a refresher? Looking for other uses/avenues of revenue? If you are considering the purchase of this type of equipment, then this class is a must. The training personnel on hand will be able to answer your questions and concerns in a non-pressure environment.. Again, all personnel have extensive field resumes, not in only controlled environments and no field work experience. This class is a must prerequisite for the level 2/master certification class we will be conducting in the future which will also include underwater work.
We also plan on doing a few Big Truck Rescue scenarios with the class along with some classroom discussion from the staff of BTR. This information is great to bring back to your community and share with your local emergency services.
Come see why both many large and small companies, municipalities and fire, departments count on this training for their needs. The class is taught in a professional manner utilizing PowerPoint presentation/digital projector.
THIS CLASS ALWAYS HAS SOLD OUT YEAR AFTER YEAR. Whether you are planning on having some of your personnel attend or you yourself, please book early.
Lodging and course price can be found on the following flyer: http://www.matjack.com/class 2011.pdf or call the factory toll free in the U.S. at 800-827-3755 or 317-359-3078.