PRESS RELEASE
Bariatric Immobilization/Extrication Collar
---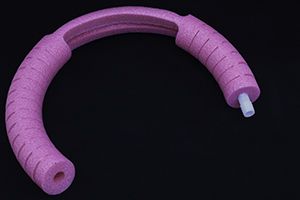 Storrs/Mansfield, Connecticut: Bariatric Collar LLC introduces the Bariatric Immobilization/Extrication Collar to the public safety community. This device eliminates the frustration and difficulty of trying to cervically immobilize bariatric patients, especially those who are difficult "to collar." The Bariatric Immobilization/Extrication Collar fills a need in the EMS service that has not been addressed until now.

Following an EMS call at a construction accident in 2012 where a bariatric patient fell off a scissor lift, Timothy Andrew Kussow, a Firefighter/EMT and Sculpture Professor, began working on a more effective solution to immobilizing bariatric patients. However, his initial research found that no viable options were available in the industry. After a long period devoted to product design and informal test trials, Mr. Kussow arrived at a final patented invention.

To date the Bariatric Immobilization/Extrication Collar has been well received by many medical professionals and is going through field trials with select fire departments and EMS services in Northeast Connecticut.

The newly patented Bariatric Immobilization/Extrication Collar consists of a simple polyethylene foam tube with a series of cuts and a nylon fitting/connector. The unique features of the invention are ease-of-use and the elimination of "towel rolling." Additional advantages of the Bariatric Immobilization/Extrication Collar include:

-True "no neck" collar                                     
-Weather proof/tactical
-Twist/tear to fit                                                           
-Floatable - water rescue aide
-Bed head padding accommodation               
-Open patient accessible
-No hyper-extension/flexion                            
-Unassuming design
-Ambidextrous side lock                                 
-Rapid extrication collar for "bag & drag" patients
-Patient position application flexibility             
-No blood or air flow restrictions
-Feed through or saw to place design             
-Easy removable for surgical airway or interventions Accommodates packing & dressings

Bariatric Collar LLC: Founded in 2015, Bariatric Collar LLC is still in its formative stages and is currently researching licensing and/or manufacturing options for the Bariatric Immobilization/Extrication Collar. For more information, visit http://www.bariatriccollar.com .
Facebook: Bariatric Collar LLC     Twitter: @bariatriccollar