PRESS RELEASE
Introducing the SideWinder from Junkyard Dog Industries
---
The SideWinder, A scissor jack at heart, is tested to hold over 15,000 pounds and is rated for a 7,500 pound working load limit.  Used in pairs or a system of four, the SideWinder can stabilize and lift a vehicle on all fours, on the side, or on a roof.
A positive locking thread device, the SideWinder can be used in conjunction with the JYD Rescue Struts for optimal lifts.  Each SideWinder provides eight inches (22 cm) of lift, enough space for safe and affective patient removal. 
Quick, Easy, Simple.  That's something we rarely hear at today's modern rescue scene.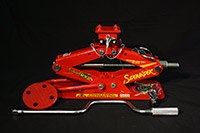 Learn more at: http://junkyarddogindustries.com/products/jyd-sidewinder/.
Request more info from Junkyard Dog Industries
Thank You!