PRESS RELEASE
Kimtek advocates safety first with UTV side by side vehicle applications in public safety
---
UTV type side by side vehicles produced by such major manufacturers like John Deere, Kubota, Polaris, Kawasaki and Bobcat are gaining more and more popularity in the emergency services/public safety portion of the marketplace. Because of their versatility, and ability to get to hard to reach, off road locations and/or crowded locations like sports stadiums and NASCAR tracks, a UTV side by side equipped with a mission specific skid-unit like the KIMTEK Medlite Transport MTD-103 off road rescue slip on or the Firelite Transport FDH-203 wildland fire skid-unit is hard to beat.
With the ranks of first responders getting thin and stretched out and not enough labor to safely execute a rescue mission, a side by side UTV equipped with a medical rescue skid-unit like the Medlite Transport can make all the difference between a long, drawn out off-road rescue mission and an orderly, quick and professional evacuation of a patient to a waiting ambulance. On the fire side, a UTV equipped with a FIRELITE Transport fire slip on unit with two or three firefighters can quickly reach a remote location of a fire and begin putting it out with water, foam or both.
With this new acceptance of the UTV comes great responsibility. I have written in the past that all agencies (fire, EMS, police) that utilize UTV's in their departments should have solid, well written SOG's or SOP's (standard operating guidelines or standard operating procedures) to help insure that everyone comes home from an incident where these machines are pressed into service. Using variations and principals introduced by the NFPA (National Fire Protection Association) or the NWCG (National Wildfire Coordinating Group) and other fire/ems protection based groups along with following state and local regulations concerning the use of UTV's, a public safety agency should be able to pull together a very well rounded set of SOP/SOG's regarding the safe use of their UTV side by side on the fire ground.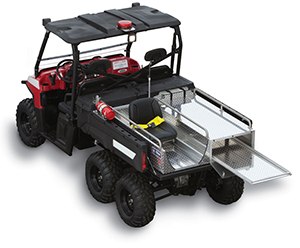 Another great source of UTV fire training material can be found with organizations like Tom Ashmore Enterprises or his subsidiary, Training Concepts. They offer a hands on UTV course with classroom and real time UTV driving course where people who will operate the department UTV can get advanced safety training on the proper use of UTV's. This company also offers a great field training guide that can assist with SOG/SOP creation back at the department. KIMTEK thinks so highly of this guide, they send along a free copy with every skid-unit they sell.
Finally, KIMTEK CORPORATION sends along an installation, training and safety booklet with every fire and ems slip on skid-unit they sell. KIMTEK believes safety first. We also believe in the concept that UTV's should be utilized as an additional tool in the tool box to safely and quickly evacuate patients from wildland off road rescue incidents, snowmobile accidents or to assist with off road wildland firefighting.