PRESS RELEASE
New Glass Knife Kits from Junkyard Dog Industries
---
Junkyard Dog Industries is taking extrication to new levels again with three new Glass Knife Kits!
JYD Industries Industries introduces three new Glass Knife Kits to meet all your extrication needs. Glass Knife Kit #1 includes a Glass Knife head that FITS ANY DRILL, a punch/pry bar, (5) N95 Dusk Masks, safety glasses and a wetting agent, all designed to help you cut laminated glass safely with little effort. Kit #2 & Kit #3 come with everything in Kit #1 PLUS an entire Milwaukee Drill Kit providing you with a 12V or 18V drill, two batteries and a charger so you're never without power. Call to get a Kit and achieve the new level in extrication.
Learn more at: http://junkyarddogindustries.com/products/glass-knife/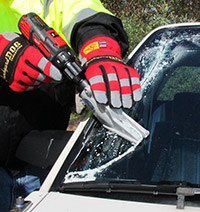 Request more info from Junkyard Dog Industries
Thank You!