PRESS RELEASE
Polaris® expands its public safety line to include all-electric GEM® vehicles
---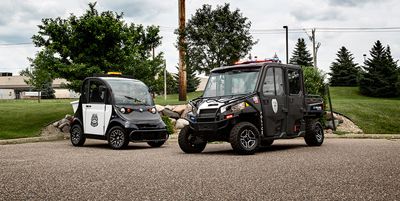 MINNEAPOLIS — Polaris® Government and Defense is adding all-electric GEM® vehicles to its line of highly mobile, affordable, and professional public safety vehicles. Polaris firefighting, law enforcement, and rescue RANGER® and GENERAL® vehicles are proven effective and can go places cars, trucks, helicopters, and other alternatives can't. Now, Public Safety GEM e2 and e4® vehicles are available with fully integrated emergency lighting, sirens and PA systems. These street legal electric vehicles provide an option to those public safety customers who demand all-electric economies and sustainability in urban settings.
"Polaris is dedicated to providing public safety personnel with the best vehicle options to enable them to perform their demanding jobs at a very high level," said Jed Leonard, vice president, Polaris Government and Defense. "GEM electric vehicles not only can accomplish what traditional vehicles can, in places they can't, but they are more sustainable, approachable and economical as well."
GEM vehicles can save a significant amount of money throughout the total cost of ownership. For example, the replacement of a single internal combustion vehicle can save $24,390 in total cost of ownership – initial purchase price plus annual cost of operation – over a seven-year period. Customers can calculate individual fleet savings using the Polaris GEM savings calculator online.
Street legal GEM vehicles have seen long-term success on military bases, universities, and in city centers thanks to their safe, cost-effective, and environmentally friendly mobility. The new GEM e2 and e4 Public Safety vehicles are no different, but they are also equipped with professional emergency lighting, sirens and PA systems to enable urban law enforcement to carry out tasks with familiar and proven equipment. GEM vehicles are narrower than a patrol car and can travel on sidewalks, narrow alleys, and navigate between safety bollards. And because they are all electric, they can also operate indoors.
Each GEM vehicle can be further customized for each department's needs with rear storage options, heat, defrost, bumpers and doors. This provides a unique alternative to other mobility options like full-size vehicles or motorcycles with greater approachability and low-speed maneuverability for community relations, parking enforcement, concerts, sporting events, parades and park patrols.
GEM e2 and e4 vehicles also have long-range battery options, regenerative braking, payload options, automotive style suspension and are Low Speed Vehicle (LSV) certified when regulations call for it.
These new GEM offerings are part of a larger public safety line-up from Polaris that includes nimble, off-road and urban over-the-curb GENERAL and RANGER vehicles:
RANGER law enforcement units provide professional, squad car-type capabilities in a vehicle complete with the similar sirens, PA system and emergency lighting.
RANGER and GENERAL firefighting units incorporate a capable pump, hose and reel, a combination tank for water and a compressed air foam suppression system and the ability draft water.
RANGER rescue vehicles incorporate a rear attendant seat and a stokes rescue basket. Rescue personnel can select between the full-length or break-apart basket for shorter overall length when not in use. There also is a combination fire and rescue package, which includes the fire tank and equipment as well as the stokes rescue basket.
The versatile RANGER, GENERAL and GEM vehicles are commonly used by both public safety and other government departments like public works to maximize their utility.
Street legal GEM public safety vehicles and on and off-road RANGER and GENERAL law enforcement, fire and rescue vehicles are available for purchase through GSA, Sourcewell (formerly NJPA), state or local contracts, or direct from Polaris. Once purchased, the vehicles are professionally upfit and delivered directly to the customer's location, or their Polaris or GEM dealer of choice. The entire system comes fully set up for immediate use and is under full warranty from Polaris. Polaris also offers customers the capability to support and maintain their own fleet of vehicles through maintenance and operator training courses, or Polaris can be contracted directly to provide the on-site service for the vehicles.
Polaris is a unique vehicle supplier that harnesses its 60-plus year legacy of industry leadership, rich heritage of innovation, and vast commercial enterprise resources, along with a team of dedicated government, defense, and technology experts and operators to deliver the products that customers need to get their missions done. This winning combination of Polaris performance, procurement simplicity, premium service, training, support, and sustainment results in a best-value for government and defense customers.
Customers can visit bit.ly/GEMPublicSafety for more information or contact gov.info@polaris.com for a quote and to request a GEM Public Safety package.
ABOUT POLARIS® GOVERNMENT AND DEFENSE
Polaris Government and Defense vehicles are forged from more than 60 years of off-road innovation and leadership. The commercial prowess and innovative culture of Polaris Industries are leveraged to deliver unique value to government entities and military forces worldwide. This dedicated division provides highly capable, simple to use, and affordable mobility platforms and vehicles that are readily available through easy procurement channels and supported through lifecycle training, service and maintenance from Polaris – the original equipment manufacturer.
Polaris Government and Defense | Mobility Made EasyTM | Polaris.com/Gov
ABOUT POLARIS
Polaris Industries Inc. (NYSE: PII) is a global powersports leader that has been fueling the passion of riders, workers and outdoor enthusiasts for more than 60 years. With annual 2017 sales of $5.4 billion, Polaris' innovative, high-quality product line-up includes the RANGER®, RZR® and Polaris GENERAL® side-by-side off-road vehicles; the Sportsman® and Polaris ACE® all-terrain off-road vehicles; Indian Motorcycle® midsize and heavyweight motorcycles; Slingshot® moto-roadsters; and Polaris RMK®, INDY®, Switchback® and RUSH® snowmobiles. Polaris enhances the riding experience with parts, garments and accessories, along with a growing aftermarket portfolio, including Transamerican Auto Parts. Polaris' presence in adjacent markets globally include military and commercial off-road vehicles, quadricycles, and electric vehicles. Proudly headquartered in Minnesota, Polaris serves more than 100 countries across the globe. Visit www.polaris.com for more information.