PRESS RELEASE
SAM Medical launches new Sam XT Extremity Tourniquet
---
WILSONVILLE, Ore. — SAM Medical Products, an industry leader in the pre-hospital, trauma care market, today announced the launch of its latest product, the SAM XT Extremity Tourniquet.
Extremity tourniquets have been on the market for several years. Unfortunately, as noted by numerous papers on extremity tourniquet failure, lives have been lost due to inappropriately applied tourniquets. Slack in the tourniquet strap is the main cause of failed tourniquet application. SAM Medical has developed an innovative approach to help mitigate tourniquet failures, and hopefully preserve more lives.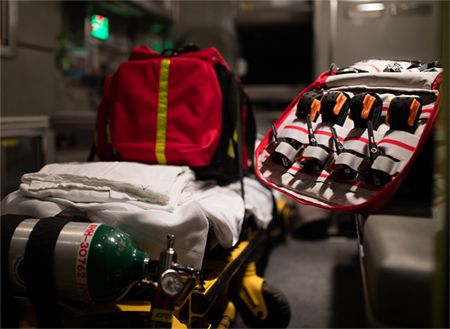 SAM XT's TRUFORCE™ Buckle technology auto-locks at a predetermined amount of circumferential force, eliminating nearly all tourniquet slack. This is achieved with an innovative baseline force control that activates locking prongs into the tourniquet strap. Simply click, twist, and secure for a life-preserving tourniquet application. This groundbreaking design, quality craftsmanship, and attention to detail make SAM XT an essential part of any first responder, military, medic, or disaster mitigation kit.
"Bound Tree Medical is excited to partner with SAM Medical as the preferred distributor of the SAM XT, a major leap in the evolution of extremity tourniquets," noted Sarnova Vice President Dan Field. He continued, "Our customers have communicated that this will make a tremendous impact, as it represents significant innovation in the tourniquet market."
Engineered for rapid application, SAM XT requires fewer windlass turns, enabling easier, faster training and intuitive use. It also meets MIL-STD 810Gfor durability. Lance Hopman, SAM Medical's Director of Research and Development stated, "We developed the SAM XT to address the continued loss of life due to slack in improperly applied tourniquets. Our TRUFORCE technology effectively provides a solution to that problem."
The SAM XT will be available for shipment starting today:
To watch a video on this new product, and to get more information on the SAM XT, visit: http://samxt.com
The SAM XT will be in action at:

Texas Tactical Show, Dallas TX, April 19-23, 2017
Tactical Conference & Expo, Verona, NY, April 25-27, 2017
Ambition, London, England, May 3-4, 2017
RETTmobil Exhibition, Fulda, Germany, May 10-12, 2017
About SAM Medical
For over 30 years, SAM Medical has a developed and manufactured innovative medical products used for military, law enforcement, emergency, wilderness and sports medicine, and pre-hospital care around the world. A resounding favorite of medical professionals, SAM Medical's lineup of products is engineered to preserve life. Innovations include SAM XT Extremity Tourniquet, SAM Splint, SAM Chest Seal, SAM Junctional Tourniquet, SAM Pelvic Sling, ChitoSAM, and SAM Soft Shell Splint. For more information, visit sammedical.com