PRESS RELEASE
SUPPRESSION GEAR unveils the VIKCTIM drag strap: A game changer in victim rescue
---
Firefighters from Kansas City Invent Device to Help Rescue Victims
PORT NECHES, Texas - SUPPRESSION GEAR Inc. is thrilled to introduce the VIKCTIM Drag Strap, an innovative lifesaving tool invented by firefighters from Kansas City, MO. Designed to transform the efficiency of rescue operations, this groundbreaking device addresses urgent challenges in emergency response across various sectors.
Why Time is of the Essence: The Urgency Behind the VIKCTIM Drag Strap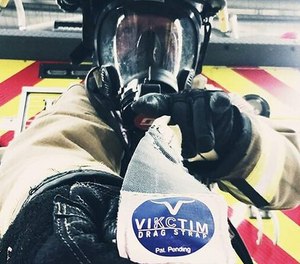 Grabbing victims during rescue operations presents multifaceted challenges. Victims may be unconscious, injured, or trapped in hard-to-reach areas, complicating safe and quick retrieval. Modern-day victims often weigh more and may have slippery skin or minimal clothing, further weakening grip strength. Add to this the poor visibility and slippery conditions firefighters often face, along with the stress of high-stakes, rapid decision-making.
The VIKCTIM Drag Strap addresses these challenges by providing an integrated, secure, easy-to-use method for grabbing and transporting victims, enhancing both the speed and safety of rescue operations. Chad Dailey, inventor and a firefighter with 32 years of experience, highlights the critical need: "The VIKCTIM Drag Strap doesn't just make our jobs easier; it fundamentally improves the chances for victims in rescue scenarios. By enhancing grip strength and stability, we're able to act more quickly, ultimately providing a faster and safer rescue for those in dire situations."
Opportunity for Broad Applications
"The VIKCTIM Drag Strap is more than an advancement for the fire service; it's a versatile tool with broad potential including EMS, law enforcement, and military applications," says Scott Hacker, President of SUPPRESSION GEAR Inc.
Seamless Integration for Immediate Impact
The VIKCTIM Drag Strap's unique design allows for effortless integration into most existing firefighting PPE, offering an immediately applicable, cost-effective solution for enhancing rescue operations. For more information on how the VIKCTIM Drag Strap can transform your rescue operations, visit www.suppressiongear.com or contact us directly at info@suppressiongear.com
About SUPPRESSION GEAR Inc.
SUPPRESSION GEAR Inc. designs and manufactures innovative solutions in firefighting and emergency response that not only meet but exceed the rigorous demands of our frontline heroes.