PRESS RELEASE
The New TURTLE TUBE- Quick, Light, Competitive
---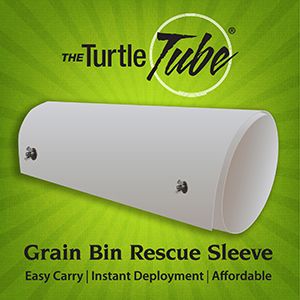 Best describe the new TURTLE TUBE for GRAIN SILO RESCUE. It takes just five seconds for a person to become engulfed by flowing grain; it takes 60 seconds to become completely submerged and risk death by suffocation.  Response time is as critical, and having the proper equipment to facilitate a speedy rescue is crucial. "The Rescue Sleeve has been a long time in the making," according to Chief Dale Dobson, Safety Administrator at the Kentucky Department of Agriculture.

The Turtle Tube Grain Bin Rescue Sleeve was designed and developed by farmers and rescue workers. Chief Dobson helped design the lightweight 18 pound TURTLE TUBE. When coiled the Turtle Tube is 18" in diameter, the tube can be forced into grain around the victim, then expands to allow breathing room and shifts weight so the victim can be freed. The Turtle Tube comes with a convenient carrying bag with a shoulder strap. Deployment is quick by simply loosening two giant stainless steel wingnuts.

Competitively priced at only $995 means that it not only every rural fire department can have a Turtle Tube, but one can be on every silo property as well.