PRESS RELEASE
Ziamatic Corp. is Giving Away the Fire New EZ-LOC Brackets at FDIC
---
use if there is a picture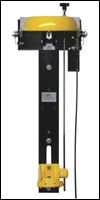 end picture
Yardley, PA – Ziamatic Corp. is pleased to announce the Ziamatic EZ-LOC Giveaway, taking place at the Fire Department Instructor's Conference (FDIC) in Indianapolis from March 24-26, 2011. FDIC attendees are encouraged to visit Ziamatic at booth #2341 and enter to win five (5) brand-new EZ-LOC brackets, Model QM-EZL-F, for their department; enough brackets to outfit an entire apparatus in the latest technology from Zico! One winner will be selected at a live drawing held on the final day of the show. Entrants need not be present to win.
With the much-buzzed-about EZ-LOC, simply return the SCBA to the bracket and lightly press down on the top clamp to secure. There is no need to risk damage to fingers, SCBAs, or expensive HUD module wiring by slamming, jamming and shoving a bottle back into place. The EZ-LOC's patented ratchet design locks the SCBA over a range of engagement – even in a partially closed position the bottle remains secure. The EZ-LOC is NFPA 1901-09 compliant and third party tested to exceed the 9G standard and fits most SCBAs with only minor adjustments. The EZ-LOC is easy on the firefighter and easy on the SCBA.
While at FDIC, make sure to stop by Ziamatic at booth #2341 to experience the EZ-LOC and enter to win. The EZ-LOC, the Strapless "D" Bottle Bracket, the forged QUIC-BAR with built-in rings, and a Retractable Vehicle Step ideal for tilt-cabs are just a few of the many new and exciting products that will be on display from Zico.
Complete contest rules available upon request. For more information and a video, visit Ziamatic on Facebook.
About Ziamatic Corp.
Ziamatic Corp.(ZICO) was founded in 1958 with the intention of providing the men and women of the fire services industry with products that make their profession safer and easier. Over 50 years later Zico remains a leader in SCBA bracket and ladder rack technology.