4 Wash. FDs rescue man who fell 50 feet off cliff
Gig Harbor Fire & Medic One requested additional specialized help to complete the rope rescue
---
By Aspen Shumpert
The Peninsula Gateway
GIG HARBOR, Wash. — Gig Harbor Fire & Medic One responded to a call around 5:30 p.m. on Aug. 4 that someone fell near Woodhill Drive.
The initial call was brief, but once GHFMO arrived on the scene they discovered it was more complex, Tom Wescott, public information officer for GHFMO told the Gateway.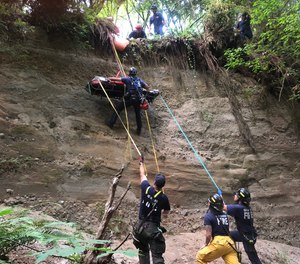 GHFMO partners with neighboring departments for specialty rescue calls, such as hazmat or high-angle rescue, Wescott said.
When GHFMO discovered they'd need to perform a high-angle rescue, they called West Pierce Fire, Central Pierce Fire, and Tacoma Fire for support.
"When you get into a complex call like that, you really need the subject matter experts," Wescott said. "People who train and are very familiar with packaging the patient and the rope systems."
Nick Langlow, A-Shift Battalion Chief with GHFMO, was at the scene.
The call was initially dispatched with a single engine and single medic unit, Langlow told the Gateway.
The reporting call came from a third party and information wasn't specific because of poor reception.
When GHFMO arrived on scene in the area of McCormick Drive and 120th Street, they got flagged down by the reporting party who directed them through the woods.
"It was a pretty heavily wooded area and we had to do a little bit of search on foot," Langlow said.
They located the middle-aged man in heavily wooden, uneven terrain, he said.
He'd fallen about 50 feet.
It is unclear how he fell or what he was doing beforehand, according to Langlow.
"It looks like there may have been a landslide in the past, or a cutout in the terrain," Langlow said. "He was at the bottom of a cliff and landed in the dirt down below."
The man suffered moderate, non-life-threatening injuries, Langlow said.
After considering the terrain and the man's injuries, crews decided a rope rescue would be the safest option.
"Once we had enough rope rescue technicians on the scene we were able to package the patient and rescue him." Langlow said. "Once he was at the top of the cliff we traversed him about 400 yards through the woods and got him into our Medic Unit and transported him to Tacoma General for evaluation of trauma."
No firefighters were injured in the rescue and no equipment was damaged, Langlow said.
For a typical rope rescue, they need six to eight technicians.
"This case was a little dynamic based on the terrain," Langlow said.
For this rescue there were 13 technicians on scene between all agencies, he said.
GHFMO would not release specific details about the individual's injury and would not specify if the individual was released from the hospital.
(c)2023 The Peninsula Gateway (Gig Harbor, Wash.)
Visit The Peninsula Gateway (Gig Harbor, Wash.) at www.thenewstribune.com/gigharbor
Distributed by Tribune Content Agency, LLC.
McClatchy-Tribune News Service