Video: 'You have to work together,' says FDNY firefighter describing dramatic high-rise rescue
Four crewmembers were on the rope during the rarely needed, lifesaving maneuver
---
By Leila Merrill
FireRescue1/EMS1 Staff
NEW YORK — One of the FDNY firefighters who was lowered during a Manhattan rope rescue Saturday described the maneuvers to news crews, saying "when moments like this happen, there's no room for mistakes. You have to work together."
The high-rise fire that started with a lithium-ion battery problem injured 43 civilians, firefighters and police officers, FDNY said Sunday, according to the Associated Press.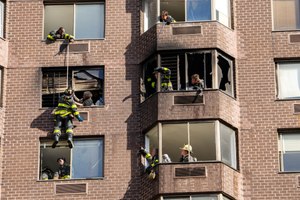 Two people were transported to a hospital in critical condition and two were in serious condition.
The woman who firefighters rescued from a window ledge said she thought she was going to die.
"I would have died without them," Christina Foti said from a hospital bed on Sunday, the Daily News reported.
FDNY posted an account of the rescue on Instagram. It reads, in part:
"Our first units were confronted with heavy fire at the front door, blocking the occupants only means of egress. This required a herculean team effort from our members. In total we put four of our members on a lifesaving rope. We train on that; we train on all of our procedures often. FDNY procedures fundamentally value the team effort, individuals execute that. That is what we saw inside the fire building, outside the fire building with members being lowered. We started with a member from Ladder 16 who was lowered down, he realized the victim hanging out the window was caught on the child gate. That rope system was reset and another Firefighter was lowered to the victim and held onto the victim. A member from #Rescue1 came down with a Halligan and was able to get the window gate freed, this allowed the whole weight of the victim to be on the Firefighter from #Ladder16. He was then lowered by the team above to the floor below with the victim. A fourth member then went on rope from #Ladder2 and was lowered to the floor below, at that point the inside team was able to remove the additional victims from inside the apartment."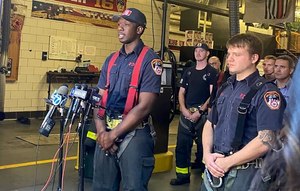 Firefighter Artur Podgorski, with Ladder 16, "My role was to go under the victim, take her weight, hold her weight, so the member above me could free her arm," said Podgorski. "When moments like this happen, there's no room for mistakes. You have to work together."
"It's not just one person on the rope," he said in a video published by CBS New York.
FDNY firefighters train to perform this kind of rescue but rarely need to perform the maneuver.
"Since 1980, we have more than 50 documented successful life-saving evolutions done in the NYC Fire Department," said FDNY Deputy Assistant Chief Frank Leeb.
Authorities are investigating the fire.