PRESS RELEASE
Sterling Rope Announces the Latest Innovation in Escape Devices – the F4
---
end picture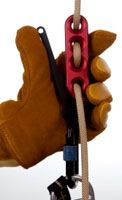 Biddeford, ME – Sterling Rope Company, Inc announced today the introduction of a new product for the fire service called F4.  This new and innovative device is to be used for emergency egress or escape in a worsening fire condition.  Its sleek, low profile design is lightweight, yet strong, and very simple to use. It is certified to NFPA 1983, 2006 edition for Escape.  The F4 is approved for use with Sterling's escape ropes, such as the FireTech 32™ (developed and used by FDNY) and EscapeTech™. 
The F4 is an auto-locking descent control device. The rope is easily pre-rigged by threading the rope through the four holes (as shown) for fast deployment.  In the last hole, the rope also passes through the release handle, which when squeezed releases the rope to allow easy horizontal movement or descent.  At the window, because it is auto-locking, a firefighter can employ a hands-free bailout. Sterling's F4 is designed for use with either hand, and by any size, shape, or weight firefighter.  During rappel, the fire fighter must use both hands to operate the F4 and rope (one hand on the F4 and the brake hand on the free-end of the rope). The brake hand controls the speed of descent.
The F4™ was developed in-house by Sterling co-owner Peter Schwarzenbach and Rescue Safety Manager Sam Morton, both of whom are co-named on the provisional patent awarded to the F4.  The company wanted to develop a better descent device to accommodate their industry leading escape ropes.  Sterling also worked with veteran fire fighters and instructors from departments all over the country to test and refine the product.
The F4 will be available through Sterling retailers and distributors and in a number of kit configurations, including the F4, a Sterling escape rope, the Crosby hook or other anchor option, and a locking captive carabiner, For more information on the F4 or other Sterling products, please contact Sam Morton or visit our Web site.