PRESS RELEASE
SuperFlo SafeT Systems Announces New Ultra Webbing.
---
Ultra Webbing has revolutionized strap webbing as you know it: all of the standard uses plus easily accessible interwoven loops that provide a multitude of opportunities for lock-in points, securing items and so much more.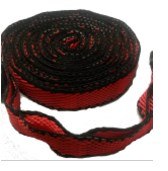 Ultra Webbing Features:
Say goodbye to knots!
Compress any section of webbing and 3 inch loops appear
Easy to weave and un-weave with the 3in. loops
Easy attachment anywhere
Carabiner in at any loop
Up to 10,000 lbs of strength
Available in Red, OD Green, Black and Reflective Red
Nano Sphere treated to repel all matter
Made in the USA
A brief demonstration of Ultra Webbing!  10,000 lbs of pull, each loop can hold 3,700 lbs of pull when using a carabiner. Literally hundreds of uses, how will you use your Ultra Webbing?
About SuperFlo SafeT Systems
SuperFlo SafeT Systems, based in Cincinnati, Ohio is working to revolutionize the fire and safety industry with innovative products and a safety-centered mindset. We are determined to help protect and improve the workplace of fellow firefighters and emergency service professionals. All of our products are made in America. We are confident that our products will greatly improve your workplace satisfaction and personal safety.