Fla. fire dept. leases motorcycles for rapid response
Firefighters will respond in congested areas on two Harley-Davidson Electra Glide motorcycles equipped with ALS gear and fire extinguishers
---
Northwest Florida Daily News
FORT WALTON BEACH, Fla. — The city fire department soon will add two rescue motorcycles to its fleet.
The motorcycles are part of the new Rapid Incident Deployment and Emergency Response initiative, or RIDER Team. Firefighters, paramedics and EMTs will be able to use the motorcycles to respond to emergencies in the downtown area during congested events.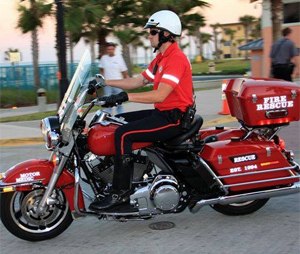 "I think it's great," City Manager Michael Beedie said. "They're doing it in Daytona Beach and a couple of other cities. It's going to definitely be an enhancement of services for us."
The motorcycles will be able to respond to fires and other emergencies quicker and easier than a large fire engine. They will be especially helpful during events such as the Billy Bowlegs Pirate Festival, the Fourth of July celebration, the Christmas Tree lighting, weekly concerts at the landing and the New Year's Eve celebration when crowds are heavy.
The city will lease the two Harley Davidson Electra Glide cycles from Emerald Coast Harley Davidson on Beal Parkway for $1 per year.
The city will pay about $600 to insure each motorcycle and to equip them with lights, radios and sirens. The motorcycles also will be able to carry advanced life-saving equipment and fire extinguishers.
"It's going to be cool," said Daniel Gusoff, general manager at Emerald Coast Harley Davidson. "You'll know it's an emergency vehicle, for sure."
Gusoff said he was happy to help provide the motorcycles to the city.
"I thought it was important," he said. "We want to be as involved in the community as we can."
Copyright 2015 Northwest Florida Daily News
All Rights Reserved