How a mobile incident command vehicle fleet supports emergency management
The story behind one of the busiest mobile incident command and communication resources in Silicon Valley
---
By Randall D. Larson
Over the last couple of decades, the acquisition of mobile command vehicles for local agencies has moved from a luxury afforded only by well-funded agencies to essential components of emergency management in the current environment of terrorist attacks, active shootings, massive wildfires and devastating weather-related disasters.
The City of Palo Alto, California, in the heart of Silicon Valley, has taken this notion a step further. The Palo Alto Office of Emergency Services (OES) has supplemented its full-size mobile EOC (MEOC) with a small fleet of support vehicles – two pick-ups and an all-terrain utility vehicle – allowing the agency to fully support emergency management in the mobile environment.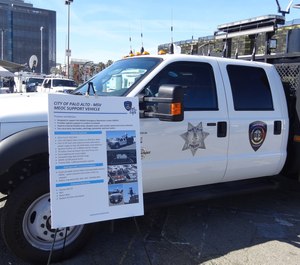 This article explores the role of one of the busiest mobile incident command and communication resources in Silicon Valley.
palo alto builds its fleet
Palo Alto acquired its first command vehicle in July 2010, purchased through a mix of federal grant and city funding. The 40-foot unit built by LDV Custom Specialty Vehicles also serves as a back-up to the city's 9-1-1 center (it once handled neighboring town Los Altos' Communications Center when its PSAP had to be fumigated due to termites) and is considered a regional asset, deploying throughout the San Francisco Bay area to support mutual aid needs.
"One of the key elements for a successful command vehicle program is that the thing gets deployed," said Palo Alto Director of Emergency Services Kenneth Dueker, who manages the city's mobile command unit program. "We initially joked that we would bring the MEOC to every Girl Scout meeting and block party in town! As it turned out, real-world deployments kept us busier than we imagined."
In 2013, another grant came through, and Dueker expanded the MEOC program with the acquisition of a Ford F-550 "Prime Mover" stake-bed truck, which was designated the MEOC Support Vehicle (MSV). This unit serves not only as fuel tender for the MEOC but can carry additional equipment and staff such as tactical dispatchers or EOC personnel.
The following year, a smaller truck, a Ford F-250, configured similarly to the CHP and CAL FIRE truck design, was put into service as the director's command vehicle (DCV). This unit carries onboard interoperability and data communications capabilities including a rooftop tilt-up mast and a forward-looking infrared (FLIR) camera and allows the OES director mobility as he interacts with his staff in remote areas, as well as incident command staff during large incidents.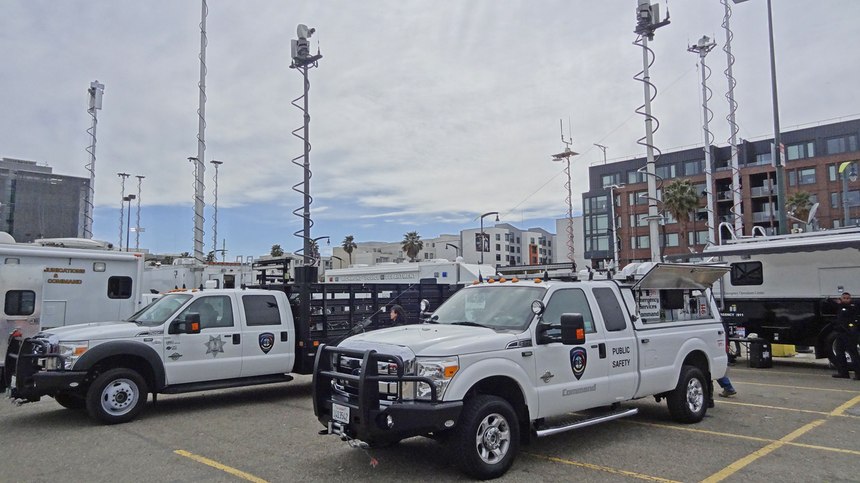 Completing the command vehicle fleet in 2018 was an electric-powered Polaris Utility Terrain Vehicle (UTV) used to access disaster zones, transport staff to incident base camps and traverse off-road environments that larger vehicles can't access. Solar panels on the UTV's roof provide supplemental power.
"We found that our big four-wheel-drive trucks could not get us up certain trails when we were placing portable repeaters and other equipment in remote areas," Dueker explained. "Because our city limits run from the San Francisco Bay in the east to the foothills of the Santa Cruz Mountains in the west, the UTV improves our ability to patrol and respond to incidents in such remote locations."
In some jurisdictions, mobile command units are kept in a firehouse or agency's fenced parking lot, waiting for use during a major incident when one occurs. Dueker reiterates his belief that these units need to be used to ensure the vehicle is always in a state of readiness.
"On average we're deployed for something once a week or so," said Dueker. The unit is most often activated for planned events – dignitary visits, public gatherings and sports events at Stanford University. "We're the alternate command post for every Stanford football game," Dueker said. "We're supporting the Stanford University Department of Public Safety. So that's a case where we're serving another allied agency regularly."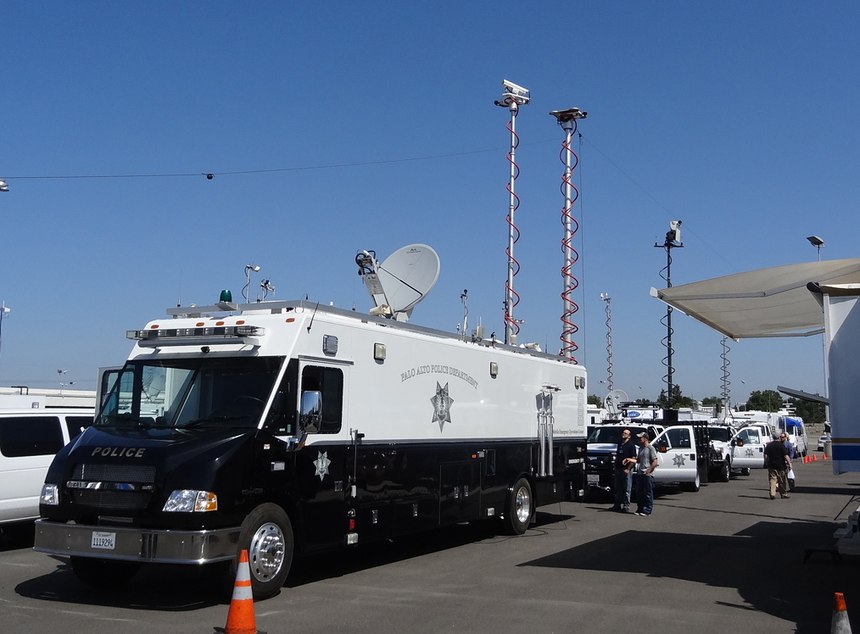 Interagency training resource
The MEOC has also been invaluable as a resource for interagency training. Palo Alto has displayed its growing fleet at the annual California Mobile Command Center Expo for several years and takes place in mutual aid training throughout the region. The unit's first formal activation was for the 2010 Urban Shield exercise, where it served as the area command unit for this intensive and large-scale two-day training event.
It still gets involved in local and regional training – with or without the support vehicles – which also keeps the MEOC staff members familiar with mobilizing, operating and demobilizing the vehicle.
In emergency deployments, the unit supports Palo Alto Police, fire and allied agencies through the county and state mutual aid programs.
"We sent the MEOC support vehicle and a good number of my staff up to the Camp Fire in Paradise last year, supporting the mutual aid effort for more than a week," Dueker said. "The season before last, our MEOC served as the fire incident command post for a big fire right on the border of Palo Alto and Saratoga. So, we deploy for all hazards."
The next asset Dueker plans to acquire is a military-type solar battery, which can be towed to the incident by the MSV to supply power to MEOC instead of running off on-board or portable generators. "One of those solar batteries has enough power to run our MEOC, theoretically, indefinitely, if we get enough sun on it," Dueker said.
Over the last decade, Palo Alto's command vehicle program has grown into one of the Bay Area's most versatile and uniquely functional specialty teams.
"Our vehicles get smaller and somewhat more specialized as the years go on," Dueker concluded. "The reality is that a large Type 1 command vehicle is great – and we end up using it more than any of us thought we would. But we realized pretty quickly that we needed an off-road capable truck to haul trailers and sandbags and insert tactical teams and all that, so I was lucky enough to get a separate Homeland Security grants for the MSV, and then we went to the DCV and the UTV. Our big push for the next few years is resilient power. That's our next big move forward."
---
About the author
Randall D. Larson retired after 20 years in public safety communications, serving as a shift supervisor, trainer and field communications supervisor for the San Jose (Calif.) Fire Department. Larson was also the editor of 9-1-1 Magazine from 1995 to 2009 and its online version from 2009 to 2018. He currently resides among the northern California Redwoods writing in a number of fields of interest.

Request product info from top Fire Specialty Vehicles companies
Thank You!