REV Group holds tribute to first responders at NTT IndyCar series Grand Prix event
Event showed appreciation for the firefighters and other emergency personnel who are integral to racing safety
---
By FireRescue1 Staff
In April 2019, REV Group, Inc., and Road America together announced a tribute to first responders at the inaugural NTT IndyCar series REV Group Grand Prix, held in Elkhart Lake, Wisconsin, June 20-23, 2019.
As part of the tribute, all active-duty first responders received free entry to the REV Group Grand Prix activities, including the NTT IndyCar feature race. Additionally, REV Group and Road America executed a unique race experience to honor the men and women who answer the call to protect and serve our communities. Specifically, fire and ambulance vehicles from REV's E-ONE, KME, Horton, AEV and Wheeled Coach brands were on display.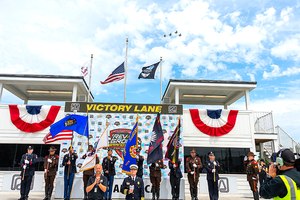 FireRescue1 connected with Tony Besasie, REV Group chief marketing officer, to learn more about the event.
FireRescue1.com: What inspired you to create this tribute to first responders at the Rev Group Grand Prix event?
Tony Besasie: REV Group has been involved in motorsports for a few years. Nearly every type of vehicle we make appears at a racetrack, from fire and emergency vehicles to RVs and buses. Road America approached us with a title sponsor opportunity of the NTT IndyCar series in June, and we partnered with them to dedicate the REV Group Grand Prix to first responders. They were very cooperative and enthusiastic to make this tribute a special event. We manufacture fire and emergency vehicles that first responders use each day to protect and help the public, and we wanted celebrate their service through this event. In addition to a unique racing experience and a weekend of activities, offering free entry to active-duty first responders allowed us to show our appreciation.
What do you see as the connection between first responders and IndyCar events?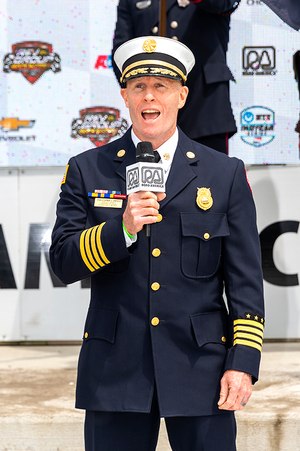 Besasie: The green flag can't drop at any pro motorsports race unless fire and emergency crews and vehicles are on site. Safety is paramount in racing, and racecar drivers are dependent on first responders to help them when they've been in an accident. First responders are first on the scene when it matters most.
How many first responders attended the event?
Besasie: We had between 600 and 700 active-duty first responders attend the race.
What types of feedback did you get from the firefighters who attended?
Besasie: Many firefighters took the time to visit the REV Group vehicle display area to say thank you in person, which we greatly appreciated. We also received thank you's via email and on social media. We were very pleased with the response and support.
How did you connect with Battalion Chief Christopher Snyder of the Milwaukee Fire Department to sing the National Anthem?
Besasie: We first got to know Chief Snyder through a community education initiative. REV motorhome division built a custom mobile education unit called the "Survive Alive" Unit. It's the first-of-its-kind mobile fire education unit, which is used to engage children in the greater Milwaukee area. Through that relationship, we learned that Battalion Chief Snyder has performed the National Anthem at several major sporting events, so it was perfect to have him sing at the REV Group Grand Prix. It was a true honor to have him perform at the pre-race ceremony. He did an amazing job.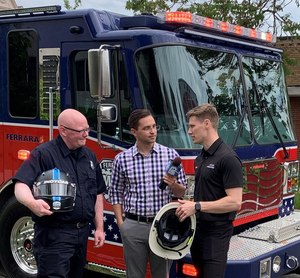 Who won the Answer the Call Sweepstakes?
Besasie: We were overwhelmed by the response. We had several thousand entries in our Answer the Call Sweepstakes to win a Lance 1475 Ultra-Light Travel Trailer. Our winner is a firefighter from Illinois, and he and his wife are very excited and plan to use it straightaway.
What were the highlights of the event for you?
Besasie: We coordinated a helmet exchange between our REV Group sponsored race car driver Josef Newgarden and HEO Brian Cox, who was injured in the line of duty. Josef was injured in a race in 2016, and is forever grateful to the first responders who put the fire out and helped him from his race car. It was a very poignant moment between two drivers, a fire truck driver and a racecar driver sharing their mutual respect and admiration.
Do you plan hold this tribute again in future years?
Besasie: We are very excited to see the positive response and are encouraged to repeat it. We're in the planning phase now. The Road America tribute has inspired us to think of other ways we may be able to recognize first responders. It's a small way for us to say thank you.
What did you learn from the experience?
Besasie: The REV Group Grand Prix First Responder Tribute was really well-received from first responders and the public alike. And it's a close-knit community, so the word of the tribute and the sweepstakes we ran spread fast, which was fantastic. We'd love to have even more first responders come out and take advantage of the free entry and activities we offer in the future!

Request product info from top Fire Specialty Vehicles companies
Thank You!