San Diego to get special firefighting vehicle for oil tanker derailments
The vehicle is specially designed for oil tanker derailments, explosions, leaks and potential terrorist acts
---
By David Garrick
The San Diego Union-Tribune
SAN DIEGO — With California expecting a surge in oil transports by rail, San Diego firefighters will soon receive a new hazardous materials vehicle specially designed for oil tanker derailments, explosions, leaks and potential terrorist acts.
San Diego is among 12 areas of California scheduled to receive one of the vehicles this fall from the state, which will also pay to train the city's 17-member hazardous materials team to use the vehicle.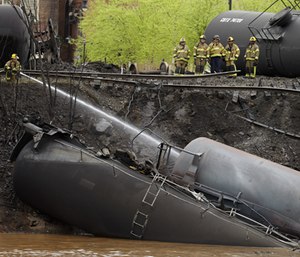 Much of the oil in California, the third-biggest refining state in the nation, is transported by ships. But city officials said the state is expecting an increase of oil transportation by rail from places such as Canada and North Dakota.
That increase will bring higher risks of hazardous material derailments, explosions, fires, accidental oil releases and crime or terrorist acts, according to the Governor's Office of Emergency Services.
The training will cost $180,000 and is scheduled to be completed by next summer. Officials didn't disclose the cost of the new vehicles.
Copyright 2017 The San Diego Union-Tribune