The next generation of off-road emergency response vehicles
The XRU from ESI is purpose-built to carry a heavy payload and navigate rough terrain without compromising speed, stability or safety
---
Sponsored by ESI Equipment, Inc.
By Robert Avsec for FireRescue1 BrandFocus
Emergency response organizations, particularly fire departments, have a long history of creating apparatus and equipment solutions to problems where such apparatus or equipment was not already commercially available. The first motorized fire apparatus was little more than a pump, water tank and hose mounted on a truck chassis. Once the concept was proven, apparatus manufacturers sprung up to take the concept mainstream.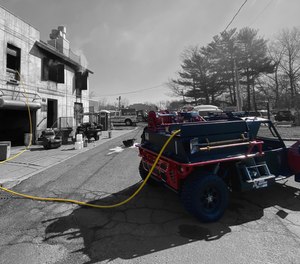 Similarly, when the need for off-road fire suppression arose, fire departments took to using commercially available 4x4 vehicles (e.g., pickup trucks and jeeps) as well as surplus military vehicles (e.g., 6x6 trucks) to carry their pumps, water and hose off-road to combat brush and wildland fires.
More recently, many fire departments have taken the next step in off-road emergency responses by outfitting commercially available all-terrain vehicles (ATVs) for fire suppression, EMS response and search and rescue operations.
DRIVING FORCES BEHIND THE USE OF ATVs
The reasons for fire departments to begin using ATVs are many – with both urban, suburban and rural components, such as:
Providing services for large crowd events (e.g., fairs, festivals, protests) where normal-size fire apparatus and ambulance use is not practical.
Providing services following severe weather events (e.g., tornadoes, hurricanes, snowstorms) when normal response routes have been rendered impassable or destroyed.
Providing services in more rural areas (e.g., wildlands and wildland urban interface [WUI] areas) as more residential dwellings have been built but the infrastructure to support fire apparatus and ambulances may be lacking.
Providing services to large recreational areas (e.g., state and federal parks) where infrastructure to support fire apparatus and ambulances does not exist.
Providing rapid fire suppression services to early-stage wildland fires, and fires in the WUI, as climate change is increasing the speed at which such fires are now growing
LIMITATIONS OF COMMERCIAL ATV CHASSIs
The use of commercially available 4x4 and 6x6 ATVs have certainly enhanced the emergency response capabilities for many fire departments, but not without some significant shortcomings that include, but are not limited to:
Relatively small payload capacities which can lead to an overweight vehicle if too much equipment is mounted.
Ground clearances that can be inadequate for use over extremely rugged terrain or areas devastated by severe weather events or earthquakes.
Lack of sufficient ruggedness to operate over extended periods of time in harsh conditions.
THE NEXT GENERATION OF OFF-ROAD RESPONSE VEHICLE
Enter the XRU (Xtreme Response Unit) from ESI Apparatus Division, the leader in the field of custom purpose-built first responder apparatus. This new and innovative vehicle for off-road use is the most recent addition to ESI's Rapid Response Unit (RRU) line.
Designed by TOMCAR, the XRU is a highly functional 4x4 off-road rescue response vehicle that's going to dramatically change the face of purpose-built emergency response vehicles for use by fire departments, EMS and law enforcement organizations.
What makes the XRU so special? Well, for starters it has "military battlefield DNA" that makes it extremely durable, exceptionally dependable, highly functional and built to tackle any public safety mission over any terrain. Unlike most commercially available ATVs, the XRU's four-wheel independent suspension provides a smooth and comfortable ride over the most rugged terrain at speeds up to 65 mph, even when mission equipped (e.g., fire suppression, EMS, or search and rescue).
WHAT MAKES THE XRU SPECIAL?
Unlike recreational ATVs which fire departments or other manufacturers have converted into to off-road emergency response vehicles, the XRU is designed and built from the "ground up" to be an off-road emergency response platform.
The birthing process for the XRU begins with TOMCAR's unique chassis that's constructed using over-sized, high-grade steel to create an armored "cocoon" that protects occupants from injury. Those occupants, and the vehicle's critical components, are protected from underneath with undercarriage skid plates made from aircraft-grade aluminum that enables the TOMCAR to glide over the largest of obstacles.
WORLD-CLASS SUSPENSION
With its long travel, 4-wheel independent suspension, the XRU is specifically designed to prevent roll-over crashes and absorb the harshest terrain for extended periods of time. (Every TOMCAR is engineered to meet the Roll Over Protection Standards of ISO 3471:2008 and is compliant with ANSI ROHVA-12011.)
Carrying a heavy payload? Going over harsh terrain? There's nothing that the XRU's adjustable Racing Shocks and Eibach Springs with Bump Stop can't handle.
GROUND CLEARANCE
Thanks to its unique design, the XRU has an extremely low center of gravity and the highest ground clearance of any off-road utility vehicle available. How high? How about an industry-leading 17-inches of ground clearance that makes the XRU tall enough to float over rocks and debris while remaining agile enough to scale stony hillsides.
PAYLOAD CAPACITY
The XRU boasts a class-leading payload of up to 2,700 pounds over 100% standard without compromising the stability, smoothness and safety of the ride. Coupled with its extraordinary ground clearance, here's an example of what the XRU is capable of when it comes to "carrying the water."
Taking water carrying capacity for fire suppression, the most other vehicles can carry is somewhere between 60 (501 lbs.) and 75 gallons (626 lbs.). However, their top speed carrying such a load safely is between 20 and 25 mph.
The XRU can carry up to 250 gallons (2088 lbs.) and still be capable of traveling at its response speed of up to 65 mph.
LET'S TALK POWER
It takes a unique combination of power to deliver that kind of payload capacity and the XRU has just that – with options! The TOMCAR is powered by your choice of a rear-mounted petro-powered engine (e.g., gasoline or diesel fuel), electric motor or petro/electric hybrid motor.
The petro-fueled engine is a 1.5L four-cylinder 16-valve engine providing enough power and range for days of work in the field.
The fully electric model is available with up to 90 Kw (120 hp) and an optional diesel engine range extender is available.
The hybrid model features a parallel power train using a combination of a 2.1L turbo diesel engine (160 hp), and a 96V, 60HP electric motor.
And, with that kind of power, you don't need to haul your XRU to the scene, unload it and prep it before it can go to work! In many states it's now possible to have your XRU outfitted and licensed to legally operate it over-the-road (be sure to research your state's motor vehicle requirements).
VERSATILITY
With two-door and four-door cab options—each with two rear deck sizes—along with ESI's ability to customize your XRU, you can get your department's  XRU set up to meet your department's mission-specific response needs. The XRU can carry fire, medical and rescue equipment to support those response needs, whether it's maneuvering through rough terrain, accessing hard to reach rural locations, tight urban environments or navigating through large crowds. Does your department face any of these challenges?
Off-road fire suppression (e.g., structural fires in WUI or wildland fires)
Off-road EMS delivery
Off-road search and rescue (e.g., urban SAR or wildland SAR)
Mobile command (Giving greater mobility to the incident commander's subordinate supervisors and managers)
Hazmat
Special Needs (e.g., parking Garages, outdoor fairs or festivals)
EASE OF OPERATION
With its low center of gravity, high ground clearance and good weight distribution, the XRU gives your personnel an off-road vehicle that's not only effective and efficient but safer to operate. The XRU provides your department with a vehicle that's easy to operate with minimal training and a vehicle that's remarkably stable regardless of the slope and terrain where it's needed.
With all those features, what department wouldn't want its own XRU?
Visit ESI to learn more about their Xtreme Response Units.
Read next: How to rightsize your response to a range of fire situations

Request information from ESI Equipment, Inc.
Thank You!