Electrically-powered tools offer extrication solutions
What's nice about these tools is that you can use them free standing with a battery charge or connected to a power source
---
Hurst rescue tools have been around the fire and rescue services for a long time. The company is noted to come out with various upgrades to their line of tools every few years.
The latest line of electrically-powered tools seems to be one of their best ideas yet. These offerings will definitely be a great improvement for those fire and rescue departments that need a quick set-up of tools for an extrication scene.
What's nice about these tools is that you can use them free standing with a battery charge or connected to a power source.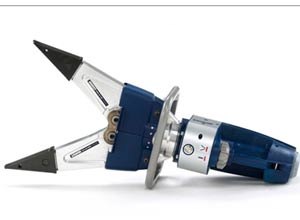 The eDRAULIC line of rescue tools were engineered to free rescue workers of power units and heavy hoses, eliminating the set-up time associated with traditional rescue tools.
eDRAULICs feature the same impressive forces of standard hydraulics in a self-contained platform and provide operators with the freedom to operate in battery mode or plug into a power source for continuous operation.

They are powerful enough to stand alone as a complete rescue set, or be used as a supplement to add portability to any existing rescue tool system. The product line includes two cutters, a spreader, a combination tool and a ram.
S 700E - Cutter
The S 700E provides rescue workers with the ability to perform rescues without hoses, a power unit or limitations. It's designed to take on current vehicle construction, as well as future wider and stronger car posts
The design of this tool makes cutting of all columns and posts in a vehicle much easier, providing more power where it is needed in the work area.
S 311E - Cutter
The sidekick to the bigger S 700E, the S 311E features impressive cutting strength, large blade opening and low weight. Blade geometry means that it is fully optimized for vehicle extrication, providing more force at the right point.
As far as you're concerned, having more force at the right point makes for a quicker more concise cut.
SP 300E - Spreader
With no hoses, no power unit and no set-up time, the completely redesigned SP 300E spreader gives rescuers the ability to perform in even the most daunting environments with a combination of strength, spreading distance and speed.
The SP 300E features extremely flat tips to penetrate the narrowest gaps and a special "diamond" surface finish for excellent grip.
Being able to get into tighter spots with the flat tips along with the strength, spreading distance and speed of operation makes this tool a great choice for first responders operating in tight conditions.
SC 350E - Combination Tool
The SC 350E combination tool has all the power and flexibility to help rescuers rip, cut or bend steel as needed. The SC 350E will perform all these tasks without the need for hoses or a power unit.
R 411E - Ram
While the R 411E is extremely compact, it offers enough strength to pack a powerful punch. The claws at the two ends can be rotated 360 degrees, enabling rescuers to apply the ram effectively in almost any precarious situation and the tool features an extended length of 47.2 in. with the extension accessory.
Being able to use these tools by themselves in the battery mode or portable mode, or being able to connect it to a heavy rescue or rescue pumper power source gives the user a great advantage and unlimited use.
It is extremely lightweight and gives the user more maneuverability around the extrication scene. If you look back several years to the older heavier rescue cutting tools that were in use, you can appreciate the new lighter design with the same power that those older tools provide.
In summary, they are lightweight and have the same power of the heavier hydraulic units that Hurst manufactures and offer a terrific ease-of-use on the emergency scene.
Hurst Jaws of Life systems travel with more than 35,000 rescue squads, fire and police departments throughout the world. For more details, visit them on the Web.