July 2010 Product Round Up: Extrication Tools, Cutters and Spreaders
---
end picture
FireRescue1 is focusing on news and information about Extrication Equipment products throughout the month of July, 2010. Check out some of these great extrication products currently on the site:
Disclaimer: The products and companies in the below Round Up are sponsors of FireRescue1.com. Their inclusion in this article is for informational purposes only and does not represent an endorsement by FireRescue1 or its editorial staff.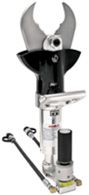 The AMK-21A Cutter has excellent cutting capability

AMKUS Rescue Systems introduces the new AMK-21A Cutter with increased cutting capability. The new and improved version of the AMK-21 Cutter offers a new style cutting blade and maintains its UNIQUE 360 degree rotating handle. The design of the blades provides increased cutting capability and a higher NFPA performance level rating. Departments can specify the position of the control valve - left, right or centered in relation to the cutting blades - at the time of ordering. It delivers the cutting power needed for automotive applications in a remarkably compact package. For more information, contact AMKUS 1-800-59-AMKUS or visit www.amkus.com.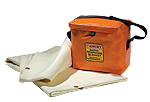 Kovenex Provides Superior Flame-Resistant Fabric for Rescue and Extrication

Kovenex is a superior cut, tear and flame-resistant fabric that far surpasses the performance of tarps and sheets, providing you and your rescue victims with much-needed protection against extreme heat and flames, shattered glass particles and sharp metal edges. Tested to NFPA standards and certified as a thermal barrier in numerous applications, products safeguarded by Kovenex and the Kovenex Rapid Response Blanket are the preferred protection tools of first responders. For more, visit www.kovenex.com.

Emergency Equipment Offers Rescue Vehicles and Equipment for Pros

Emergency Equipment has a wide array of "Mini-Emergency Response Vehicles." MERVs are fast becoming the vehicle of choice for emergency service agencies with jurisdiction over large open off-road areas requiring rapid emergency medical team response. MERVs from Emergency Equipment are useful for large municipal, township or county parks, football, baseball and other sports venues, and outdoor festivals and fairgrounds facilities. Emergency Equipment also sells all of the equipment that you'll need to go along with your Rescue Vehicles. Call 859-359-4502 or e-mail Emergency Equipment at EEResQ@cs.com.

Howell Rescue Systems Provides Products and Training for Rescuers

Rescue tools, hydraulic rescue tools, crash kits, heavy extrication tools, and the training to use them are all available from Howell Rescue Systems. Howell Rescue Systems, and its network of dealers provide the best in extrication rescue training along with deliveries of new GENESIS Rescue Tools and the other fine rescue products Howell Rescue carries. Howell Rescue also provides programs to state, county, local and "train-the-trainer" programs. Contact Howell Rescue Systems at 800-228-7612 or visit www.howellrescue.com. 

For more information on Rescue and Extrictation products, visit the FireRescue1 Vehicle Equipment Product Section at www.firerescue1.com/fire-products/extrication-equipment.