PRESS RELEASE
Burbank Fire Department Receives Major Donation to Replace and Upgrade City's Entire Inventory of Extrication Gear
---
end picture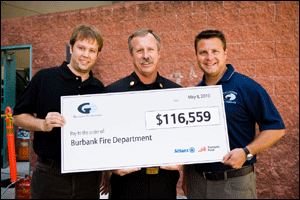 $116,000 Grant Ensures Quick Response and Rescues to Major Vehicle Crashes
Burbank, CA – Just weeks ago, Burbank firefighters from Station 11 responded to a major vehicle crash and saved a man's life. The reason – they had the newest extrication tools designed to quickly cut through today's modern vehicles.
A survey by Fireman's Fund Insurance Company, "Supporting Safer Communities: A National Fire Service Survey," found that 66 percent of fire departments across the country are facing delays in replacing worn and outdated equipment because of the economy.
Over the last several years, auto manufacturers have strengthened cars with more durable metals, making it increasingly difficult for firefighters to cut through vehicles to rescue victims in serious car crashes… unless they upgrade their extrication equipment.
Arthur J. Gallagher Risk Management Services and Fireman's Fund Insurance Company awarded a $116,559 grant to the Burbank Fire Department to purchase two entire new sets of the vehicle extrication gear and retrofit the city's four existing units.
Burbank's previous equipment was outdated and paled in comparison to newer technology which provides greater strengths and capabilities for the extrication of car accident victims. The new tools can generate 200,000 pounds of force, three times stronger than the older tools, and powerful enough to cut through the reinforced components in modern vehicles.
On Saturday, May 8, during the city's Fire Service Day event, executives from Arthur J. Gallagher and Fireman's Fund formally presented the grant to the city in front of hundreds of onlookers. Firefighters then performed a live demo to show the power of the new tools.
"As firefighters, our success is measured by rapid response times and rapid access to our patients," said Fire Chief Ray Krakowski. "It is imperative we reach injured victims as quickly as possible. This extrication equipment will allow us to respond to any emergency situation knowing we have the tools to provide the highest quality service."
This grant is part of a nationwide philanthropic program funded by Fireman's Fund Insurance Company. The program is designed to provided needed equipment, training and educational tools to local fire departments. Since 2004, Fireman's Fund has issued grants to more than 1,500 different departments totaling more than $25 million. Independent insurance agencies that sell Fireman's Fund products, like Arthur J. Gallagher, are able to direct these grants to support the fire service.
"It is critically important that these firefighters have the proper tools and equipment needed to perform rescues in any situation," said Scott Firestone, area president with Arthur J. Gallagher. "These new tools will be used for many years to come and will likely save countless lives."
"As a company, we believe it is important to raise awareness of the needs of local fire departments," said Mike LaRocco, president and CEO of Fireman's Fund. "Supporting the fire service means safer communities for all of us, and that's our ultimate goal."
About Arthur J. Gallagher Risk Management Services
Founded in 1927, Arthur J. Gallagher provides a full range of property/casualty and employee benefits products and services to clients of all sizes. For more information, visit www.ajg.com.
About Fireman's Fund Insurance Co.
Fireman's Fund Insurance Company is a premier property and casualty insurance company providing personal and commercial insurance products nationwide. It is rated 'AA-' by Standard & Poor's Rating Services. Fireman's Fund is a member of the Allianz Group, one of the world's largest providers of insurance and financial services. For additional information, visit www.firemansfund.com.