Mass. FFs rescue injured fisherman from fishing hotspot
Lawrence firefighters faced a tricky scene after responding to a fisherman with a fractured ankle
---
By Jill Harmacinski
The Eagle-Tribune
LAWRENCE, Mass. — The Falls Bridge is a hot spot for anglers in search of striped bass, shad and other fish this time of year.
The span this weekend became the backdrop for a tricky rescue of a man who fractured his ankle underneath the bridge, firefighters said.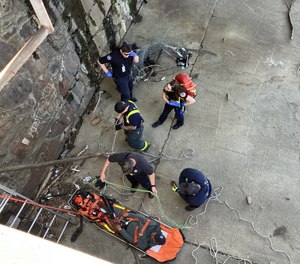 Led by Lawrence Fire Lt. Dan Sanzi, firefighters executed a technical rescue of the man using ropes and a Stokes basket, a specialized stretcher used in outdoor or water rescues.
The man was looking for a spot to fish in the area under the bridge when he fell and broke his ankle, said Deputy Chief Jack Meaney.
Sanzi led the firefighters, creating an emergency hauling mechanism to pull the injured man from 25 feet below the bridge to safety above, Meaney said.
"He was able to rig up a system with things that we had," said Meaney, effusively praising Sanzi's expertise.
Working as a team, the firefighters were able to rescue the injured man, who was in his 30s, in about 35 minutes.
The man was taken to Lawrence General Hospital for treatment.
"It went very smooth," Meaney said.
A rescue of this kind won't happen often. But when it does, Meaney said Sanzi is his "go-to" in the department to handle such situations.
Meaney took photos of the rescue. Fire Chief Brian Moriarty shared the pictures on social media noting "all did an outstanding job."
This weekend's good weather also brought some challenges. A local fisherman in the river injured his ankle and LFD had to extricate him from below. Lt Sanzi lead the rescue and all did an outstanding job!! pic.twitter.com/vYfFZnWGg9

— Chief Moriarty (@Bfmorty) May 15, 2023
(c)2023 The Eagle-Tribune (North Andover, Mass.)
Visit The Eagle-Tribune (North Andover, Mass.) at www.eagletribune.com
Distributed by Tribune Content Agency, LLC.
McClatchy-Tribune News Service

Request product info from top Technical Rescue companies
Thank You!