On-demand webinar: Using 5G and LMR to connect public safety tech today and tomorrow
Be ready for today and prepare for tomorrow
---
Sponsored by: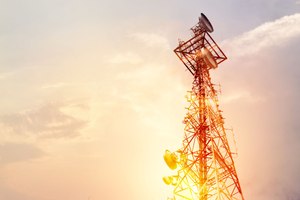 The LMR system is the lifeline for public safety organizations the world over, but some applications and IoT devices within vehicles require higher bandwidth. The best solutions for mission-critical connectivity include LMR and wireless broadband — including 5G. Along with video cameras today, soon agencies will be integrating augmented reality, machine learning, and AI to process the amount of information generated from and for their new technologies. Learn from a panel of public safety professionals how their organizations are ready for today but preparing for tomorrow.
WHAT ATTENDEES LIKED FROM THIS PRESENTATION: 
"Good information about emergency services comms in a rural environment."

"Good content and presentation!" 

"I liked getting to understand the awareness for 5G and LMR as well as getting first hand knowledge on what Cradlepoint is doing for mission critical solutions."
 MEET THE SPEAKERS: 

Robin Manke-Cassidy is a Product and Solution marketing leader at Cradlepoint. She joined Cradlepoint after holding a variety of roles within Product Management and Marketing in the Mobile, Network and client space.  Previously, she spent two decades in Enterprise IT management with roles including access, security, data center server management, development, and networking.  She holds a Bachelor of Science in Engineering degree from Arizona State University.
Rob Butts, Marketing Manger with L3 Harris, has a Bachelor of Science in Mechanical Engineering from Virginia Tech. With over 30 years of telecom experience, Rob has worked with leading vendors to design and develop telecommunications systems include most recently MCPTx infrastructure and devices as well as with Southern Linc during the deployment of the MCPTT products and services.
Alan Close is a U.S. Army Veteran and President of Cleveland Communications, Inc. He is a member of theL3Harris Indirect Advisory Committee, as well as a founding Member of the Ohio Public Safety Alliance Network (OPSAN).
T.J. Martin is the Vice President of Cleveland Communications Inc. following a 40-year fire service career. While with the City of Parma Fire Department, T.J. served as the communications coordinator and public information officer. TJ aided in the planning and organization of public safety communication systems while he served on multiple committees in Northeast Ohio. Through a forward-thinking and innovative approach to communication T.J. has expounded on the outstanding characteristics of L3Harris, CradlePoint and AT&T FirstNet to provide unparalleled communication possibilities to emergency personnel.