4 ways this new thermal imager can benefit your department
High-quality images and a lightweight design make this TI ideal for every call
---
Sponsored by Bullard
By Courtney Levin, FireRescue1 BrandFocus Staff
When most individuals in the fire industry hear the name Bullard, they typically think of rugged and comfortable helmets. While the company got its start manufacturing this head protection in 1898, Bullard also offers first responders another invaluable tool – the thermal imager.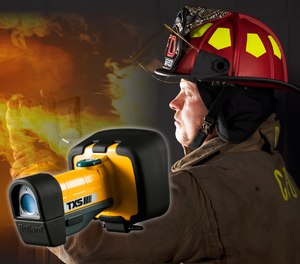 In production since 1998, Bullard's thermal imagers feature a range of options and price points. Whether you value long battery life, are focused on ergonomics or need DVR and zoom capabilities, there's a Bullard TI for your department's needs.
THE MORE THE MERRIER
Your department likely has more than one set of firefighting tools, so why should you settle for sharing one thermal imager? In some instances, budgets play a larger role than convenience, limiting departments to purchasing only one imager with as many functions as possible.
However, Bullard's latest thermal imager, the TXS thermal imager, provides the same operational features as its advanced series yet at a much lower price. Now, it's more feasible to equip first responders with multiple thermal imagers at a scene, significantly increasing safety and giving firefighters a better chance of quickly extinguishing a blaze.
"If a department wants to invest in a thermal imager, instead of getting one decision-maker that has all of the features they can possibly get, they can get two or three of the TXS instead and spread them out," said Erin Higgins, marketing manager at Bullard.
Instead of having to pick and choose which imager options appeal most to your department, the TXS packages Bullard's most favored benefits into one piece of equipment. Here are four key reasons to consider the TXS:
1. INTUITIVE OPERATION
Bullard's TXS provides departments with a tool that's ready to use right out of the box. With a single on/off button, first responders can assess a situation immediately, without having to press multiple buttons, and gather enough information to make an action plan.
This one-button functionality makes it ideal for larger departments, says Higgins. The TXS has an easy-to-understand high heat colorization, numerical and sliding bar temperature indicators display.
2. READY WHEN YOU NEED IT
When safety is a priority during a call, the last thing a firefighter wants to have to worry about is being careful with their department's thermal imager. The TXS features rubber bumpers and has been tested to withstand many conditions that may arise.
"You can throw them on the ground, and they still work," said Higgins.
Aside from sheer durability, the TXS also features another important component for any piece of electronic equipment: Its battery provides six hours of continuous use, eliminating the need for charging multiple times throughout the day. Several charging options are available, including a truck mount design, ensuring the TXS is ready when you are.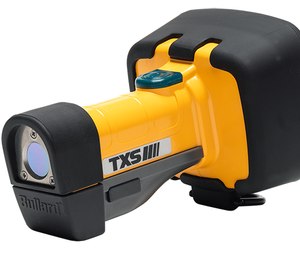 3. DESIGNED FOR PORTABILITY
The equipment used to extinguish a fire is heavy enough, so Bullard created its TXS thermal imager to be incredibly light. Weighing in at only 1.6 pounds, it can be stored on a lanyard and is ergonomically designed to reduce strain on the body.
Since the TXS has such a small footprint, departments can bring several of them to a call and equip multiple crew members to ensure safety and efficiency. Decision-makers can use Bullard's more advanced QXT thermal imager to assess a scene in more detail and rely on the TXS to act as additional eyes on the fire.
4. MORE INFORMATION FOR GREATER SAFETY
Gathering as much detail as possible about a fire is the best way to increase situational awareness and make sure crews stay safe. The TXS thermal imager offers fast image processing and features a 320x240 resolution with a 3.5" display.
This wide-angle view shows a high level of detail and produces images that make it easy to develop a plan, even in severe-smoke environments. The fast image processing time of the TXS means that as your conditions change, you'll see everything quickly and clearly.
SETTING YOUR DEPARTMENT UP FOR SUCCESS
Purchasing one or more thermal imagers is an important investment for any department, no matter the size or budget. To ensure you've selected the right TI for your needs, Bullard offers a free demo program.
All Bullard thermal imagers are designed for durability and aim to make a crew's job easier, but the TXS offers Bullard's intuitive features at an affordable price.
"We see fire stations around the world striving to get more eyes on the fire, and with the TXS, we want to make that possible," said Martijn Bosch, global product portfolio manager at Bullard.
Visit Bullard for more information.
Read next: Ditch the discomfort: This new firefighting helmet offers both protection and comfort

Request information from Bullard
Thank You!