How to boost accountability both on and beyond the fireground
The Connected Firefighter Platform from MSA Safety combines multiple safety functions to provide real-time incident data to both firefighters and command staff for on-scene response, as well as analysis after the fact
---
Sponsored by MSA Safety
By FireRescue1 BrandFocus Staff
As firefighters, we tend to live by the same creed no matter where your department is located or who the members are: Everyone goes home.
In the old days, we rushed into burning buildings with that attack line, not giving a second thought about whether our incident commander had any clue who was on the end of the line. Things have changed in a big way – and rightfully so – in the direction of firefighter safety. Now, remote monitoring enables live monitoring of active fire scenes from any location where an internet connection is available.
Personal accountability devices help keep a crew connected when it matters most, and in the most unpredictable situations. The use of a personal accountability system provides enhanced safety for individual firefighters and gives the incident command staff an improved means to account for all personnel on the emergency scene at all times – a vital part of fire response.
WHY ACCOUNTABILITY MATTERS 
Accountability means different things in the fire service – from understanding air management to properly deploying and evacuating firefighters at the right time to knowing who is on scene, who is in alarm and how long an incident has occurred. For most firefighters, accountability means visibility of every person on the fireground.
A variety of tools are available for this purpose, but they often require significant time and infrastructure. The MSA Connected Firefighter Platform is designed to provide an end-to-end accountability system to boost situational awareness and increase safety. The platform includes:
The LUNAR Connected Device, a handheld, wireless device that is intuitive and easy to use, providing reliable accountability and situational awareness on the fireground. (NOTE: This device is eligible for AFG funding in the Personal Accountability System category.) LUNAR is equipped with Firefighting Assisting Search Technology, which provides distance and directional feedback on devices in alarm, promptly notifying all LUNAR devices and local incident command.
FireGrid, a cloud-based suite of software applications that enable monitoring, reporting, maintenance and asset management. FireGrid Monitor is the tablet-based application that provides on-scene visibility to G1 SCBA air pressure, who is in alarm, why they are in alarm, who is searching for them, etc., and feeds that incident and firefighter data to on-scene officers and remote personnel in real time.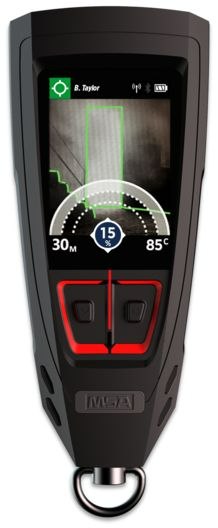 HOW DOES IT WORK? 
LUNAR's direct cloud connection makes it easy to jump off the truck and go. As soon as the devices are turned on, they connect and communicate with each other immediately and with command staff via the cellular network.
Since it is a wireless device, LUNAR can be used on all calls and by all job functions, in almost any condition or location. LUNAR offers three types of connectivity:
LUNAR-to-LUNAR network
LTE-M
Bluetooth
The devices create their own independent network that keeps them connected and communicating. The LUNAR to-LUNAR network is completely independent of cellular connectivity and radios and fully operational in locations such as basements and tunnels, even if cell towers are down in the event of a disaster.
The devices' direct connection is enabled by embedded LTE-M technology. LUNAR uses LTE-M to enable local and remote monitoring, automatically sending device and incident data to the cloud for use with FireGrid applications.
LUNAR also pairs with the MSA G1 SCBA via Bluetooth to deliver key data like air status and alarm information to incident commanders and to archive data in the cloud even when the SCBA is not telemetry-enabled.
In addition, LUNAR includes thermal imaging to aid in identifying hot spots and ventilation points with a thermal palette called Edge Detection, which highlights areas of interest, such as means of egress, doors and people, with a bright green outline. This information improves situational awareness and helps firefighters navigate through environments with low visibility.
COLLABORATIVE SEARCH 
The LUNAR devices include Firefighting Assisting Search Technology (aka FAST), which provides distance and directional feedback on devices in alarm. FAST enables collaborative search, which is the process of multiple LUNAR users actively searching for a device in alarm, from inside or outside of a structure. This reduces response time to the device in alarm by aiding in the identification of the best entry point or what rooms and floors can likely be eliminated from the search based on the distance and directional information provided.
KEY ACCOUNTABILITY CONSIDERATIONS 
Due to advancements in technology, accountability can and should extend beyond the fireground and the active incident. Here are three key considerations:
Visibility of all users: With technology in the palm of every firefighter's hand, those wearing and not wearing SCBA can be alerted if a firefighter's motion is not detected and allow those on the fireground to find separated teammates faster. LUNAR transmits important information, alarms and warnings to FireGrid Monitor for this purpose.
Equipment maintenance: With the right technology providing data about each piece of equipment, inventory managers can determine whether the equipment given to each firefighter passes inspection and meets the requirements to keep that firefighter safe.
Incident reporting: Data collected from each incident can be analyzed after the fact to help identify issues and improve performance.
The LUNAR Connected Device collects and reports the data to address each of these elements to promote accountability in the traditional sense, while also expanding to other areas on- and off-scene to better support firefighter safety. MSA's Connected Firefighter Platform helps create visibility, increase efficiency, promote situational awareness and enable accountability for everyone on scene.
GRANTS FUNDING AVAILABLE
The LUNAR Connected Device is eligible for AFG funding in the Personal Accountability System category, which is a high priority for FEMA. Most requests will fall into the "micro grant" category, which receives additional consideration in the pre-scoring review.
For more grants information and assistance with your application, visit FireGrantsHelp. Visit MSA for more information on the LUNAR Connected Device and the Connected Firefighter Platform.
Read Next: How MSA Safety's Connected Firefighter platform helps keep firefighters accountable, connected

Request information from MSA
Thank You!