Mass. fire department purchases 8 thermal imaging cameras
Every frontline fire apparatus will be equipped with a thermal camera
---
Patrick Johnson
The Republican, Springfield, Mass.
SPRINGFIELD, Mass. — The city Fire Department showcased its newest technology that fire officials say will go a long way in to help firefighters locate and rescue people trapped in burning buildings.
In a presentation before the press Wednesday at the the Spring Street fire headquarters, Fire Commissioner Bernard J. Calvi showed off the FLIR K33 thermal imaging camera.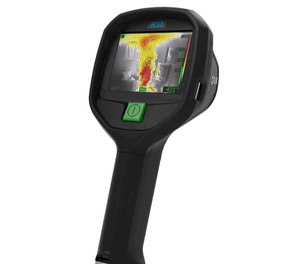 The department purchased eight of the devices and plans to have one on every front-line fire apparatus throughout the city.
"This is a huge improvement for citizens and firefighters at once," Calvi said.
The cameras cost $3,555, or $28,440 total, he said. The department was able to make the purchase as a result of freeing up funding in the budget, he said.
Previously, the department had 6 such cameras, and they were distributed to ladder trucks and to the rescue squad. With the purchase, Calvi said every frontline fire apparatus will be equipped with a thermal camera.
They should be able to be put in service by the end of the day, he said
Calvi said the department compared different imaging camera and decided the FLIR K33 was the best choice available.
Portable and durable, they also have a one-touch on-off switch that can be operated by a firefighter wearing protective gloves.
Calvi said the new cameras will enhance safety for both firefighters and members of the public alike.
Sarno called them an amazing bit of life-saving technology.
"They are going to allow (firefighters) to see more clearly under fire and smoke conditions, and to protect themselves and save lives," he said.
Calvi said the thermal cameras can record a heat signature but are sensitive enough to recognize the heat signature of a person versus the heat signature of a fire.
Calvi pointed the device at Aide Dennis Leger's shoes and then asked Leger to move. A trace of Leger's footprints on the rug was visible on the view screen.
"What this device does is look for heat signatures and measure difference between body heat and ambient temperatures," he said. "It allows us to look through smoke or darkness to find victims of fires or other emergencies"
For another demonstration, Leger lay on the floor in a completely darkened room. Though not visible to the naked eye, Leger could be seen quite easily on the view screen of the thermal scanner.
Calvi said firefighters often will encounter rooms that are completely dark from smoke. ""You get see you hand in front of your face," he said.
Without the thermal imaging, firefighters would have no choice but to get on their hands and knees and feel around for someone on the floor.
The thermal devices save both time and lives, he said. With each truck fitted with one of the cameras, firefighters will be able to deploy them immediately.
———
©2019 The Republican, Springfield, Mass.
McClatchy-Tribune News Service

Request product info from top Fire Thermal Imaging companies
Thank You!