Putting a thermal imaging device to the test in the California wildfires
This pocket-sized monocular from FLIR can scan large areas through darkness, glare and haze to pinpoint hot spots before they flare up
---
By Robert Avsec for FireRescue1 BrandFocus
Special contributor Chad Costa
It's "o'dark early" and you and your crew are getting some rest in Base after working on a complex fire somewhere in the western U.S. Overnight the winds have calmed and the relative humidity has risen to a whopping 20%. The fire has already consumed tens of thousands of acres of timber, along with around 30 structures.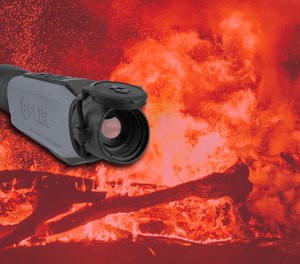 You and your crew will be returning shortly to the fire line this morning for your next 12-hour tour of duty for mop-up duty along the fire's western flank. The rising sun is just beginning to illuminate the eastern sky, but you know that with the arriving daylight those winds are going to return, and the humidity is going to drop again.
How can you effectively identify those hot spots that can be brought back to life by those winds and dropping humidity before they can flare up? Before they can grow into another rapid moving fire that launches aerial assaults on new fronts?
Thermal imaging technology in the form of the Scion PTM (Personal Thermal Monocular) from FLIR is what you need to answer those questions.
Chad Costa, a battalion chief with the Petaluma (Calif.) Fire Department was deployed for 18 days on the Walbridge Fire in Sonoma County, California and had the opportunity to put the Scion PTM-366 Thermal Imaging Camera (TIC) through its paces.
"I found that the Scion's Hot Black color palette was most useful for checking the fire line for hot spots. When the fire is burning, you don't need this tool. However, when the fire is out and you are searching the line for hot spots, it is extremely helpful," said Costa. "This tool is also helpful at night because you can scan a large area and pinpoint hot spots."
According to Costa, he was able to drive around in his truck and scan large areas of the burned-out area once without having to walk around and grid the area using personnel on foot. "Plus, in the dark, you are able to make out personnel working on the fire line," he said. "It may not seem like a big deal, but it is, and that's another use for the tool."
The FLIR Scion Line of PTMs
The Scion PTM-366 is one of four models in FLIR's line of personal thermal monoculars, along with the PTM-166 and PTM466 (The PTM-366 comes in two models offering 320 × 240 or 640 × 480 detector resolution).
LIVE ENCRYPTED VIDEO STREAMING
With a PTM from the Scion line, you can have the capability to securely stream real-time thermal video to the command center via networked devices. The Scion line also has high-performance thermal lenses (ranging from 14-36 mm) that give you the option of quick, close proximity detection, and the capability for more fine-tuned, long-range surveillance when needed. And you don't lose your real-time picture on the screen while recording a video.
VERSATILE LENS OPTIONS
You need reliable vision from a distance? The premium Scion lenses can detect targets up to 854 yards (780 m) away for the PTM-366 with a 25 mm lens, and 1225 yards (1120 m) away for the PTM-366 equipped with a 36 mm lens. When combined with the Scion's manual focus ring, you can achieve a level of clarity not found in other PTMs.
SUPERIOR THERMAL DETECTION
The PTMs in the Scion line also provide optimal performance any time of day. Their thermal imaging can pierce complete darkness, glaring light, and lingering haze (e.g., smoke in a burned-out area of a fire) to give you superior awareness when operating in difficult visual conditions. FLIR's Boson thermal core, paired with a 60 Hz image refresh rate, gives the Scion PTM advanced image processing that provides smooth, unwavering vision in the most challenging environments.
With the Scion PTM-366 you get all that capability, and more, in a PTM that weighs only 1 ½ pounds and has a IP67-rating (for dust and water penetration). So, you know it can stand up to the rigors of wildland firefighting.
The PTM-366's power supply can come from either six CR123A 3V Lithium Batteries providing up to 4 ½-hours of service 68° F (20°C) or a rechargeable battery pack that provides up to 10-hours of operation at 68° F (20°C).
Working in the wildland firefighting world is already physically taxing work that has you and your people in a dangerous and unpredictable environment. Being unable to fully comprehend the existing thermal hazards (e.g., hot spots), especially in times of decreased visibility, only increases the level of risk for you and your crew. Wouldn't it be nice if some company made a tool that could aid you in reducing that risk?
Well, FLIR has, and it's the Scion PTM-366.

Request information from Witmer Public Safety Group, Inc.
Thank You!