This TIC exceeds NFPA standards to deliver better-quality thermal images and interoperability
The FLIR K65 offers better interoperability/usability, image quality and durability in a handheld thermal imager, enabling better decision-making on the fireground
---

By Robert Avsec for FireRescue1 BrandFocus                   
Thermal imaging cameras (TIC) have been employed by fire departments since the early 1990's, and since that time the manufacturers of TICs have continued to refine and develop devices with better imaging, more features and, most important, a lower price per unit. Once touted as a "must have" piece of equipment for structural firefighting, firefighters have learned how to interpret the images they see and now rely on thermal imaging technology to do their job more safely, effectively and efficiently when: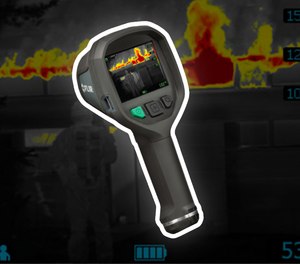 Training. An instructor using a TIC can do a better job of educating their students about fire behavior (e.g., convection, fire development, the effects of fire streams and ventilation on a fire).
Fire Suppression Operations. A TIC enables a fire officer to assess where the fire is ─ especially in closed spaces (e.g., walls, floors and attics) ─ how swiftly a fire is moving and in locating victims.
Hazardous Material Releases. TICs are an invaluable tool for identifying different gas layers, assessing product movement in both open air and closed spaces, and determining how much product remains in a vessel.
Search and Rescue Operations. Firefighters using a TIC when conducting a ground search can cover more ground in less time ─ and time equals temperature for a victim who's exposed to the elements ─ enabling those firefighters to locate a victim before they become a victim of hypothermia or hyperthermia.
Updating standards for TICs
NFPA 1801: Standard on Thermal Imagers for the Fire Service (2021 ed.) is the applicable standard for TICs used by firefighters. In the 2018 edition of NFPA 1801, the Technical Committee (TC) added new UL standard references, as well as specifications for labeling upgraded thermal imagers. The TI BASIC operational format was edited to permit the inclusion of audio, video and data transmission. The TC also added the following requirements to the 2018 edition:
A battery locking mechanism testing was added so that where the use of a tool-secured feature is relied upon to meet ANSI/ISA-12.12.01 and this feature is not automatically engaged, the camera will inform the user by a message that prevents normal use of the camera.
All imagers are required to pass a 2-hour run time conducted with video and image-capture functions active.
The thermal imager must display a useful image within 30 seconds of power being applied (battery installed).
The thermal imager must display an icon in the form of a red dot inside a green circle when recording audio/video.
Camera resolution of 76,800 pixels (320 × 240) is a minimum requirement.
A sensor/image refresh rate of at least 25 Hz is required.
Only specified symbols can be displayed at power-up.
A display resolution of 76,800 pixels was added to match the sensor requirement.
FLIR's K65 TIC delivers
The K65 is the latest TIC from Teledyne FLIR, a leader in the development of thermal imaging technology since its founding in 1978. With the introduction of the K65, a TIC that's fully compliant with the requirements of NFPA 1801 (2021 ed.), firefighters and fire officers can now have the latest thermal imaging technology in a TIC that delivers enhanced imaging in even the harshest environments, giving them the tool they need to maneuver more strategically through a structure, stay better oriented in a hostile fire environment and locate victims faster.
The requirements of NFPA 1801 focus on three principal areas: interoperability/usability, image quality and durability. The K65 TIC meets those challenges and more.
Interoperability/Usability. The K65 is easy to use, even with structural firefighting gloves on. With just three simple and large buttons, a firefighter can easily operate all the TIC's functions. And the K65's intuitive user interface enables a firefighter to stay focused on the job at hand ─ suppressing a fire or searching for victims  ─ not "fiddling" with their TIC.
Image Quality. With its maintenance-free uncooled microbolometer sensor, the K65 produces detail-rich thermal images at 320 x 240 pixels (76,800-pixel resolution) that. When displayed on its bright 4-inch LCD screen, these provide a firefighter with FLIR's high quality K-Series images, making it easier to navigate under the smokiest conditions and make better tactical decisions because they know what's happening in their environment.
But that's not all. "The K65 has AI technology built into the camera so that if conditions worsen, the camera turns on its FSX technology," said Ken Kiel, senior channel partner manager, public safety solutions at Teledyne FLIR LLC. "That technology overenhances edge detail, giving you a great view of victims or means of egress."
FSX, FLIR's proprietary flexible scene enhancement technology, enhances thermal images through real-time digital processing inside the TIC. With those ultra-sharp images ─ that show extraordinary structural, edge and other instantly recognizable detail ─ a firefighter can more safely, effectively and efficiently find their way through the darkest environments, locate and suppress a fire and find possible victims for rescue.
"With FSX, you can put a firefighter behind a burn barrel in a structural firefighting burn building, and you're going to clearly see both the barrel and the firefighter," said Kiel. "Without FSX enhancing those edges [of the images of the barrel and the firefighter], you're going to see the heat but not two distinct images."
Durability. Interior structural firefighting is a rugged environment for both firefighters and their equipment, and the K65 is designed to meet the challenge. With an IP code (ingress protection code) rating of IP67, the K65 has:
Complete protection against dust over extended time as well as protection against contact with objects greater than 1 mm in diameter, such as a wire or a small tool (that's the "6").
The "7" rating means the K65 is waterproof (i.e., protected against short periods of immersion in water while under pressure at a depth between 6 inches (15 cm) and 3½ feet (1 m). 
And the K65 can withstand a drop from 6½ feet (2 m) onto a concrete floor and exposure to ambient temperatures up to 500°F (260°C) for 5 minutes and still maintain its fully operational capabilities. And you can be safe and secure knowing that the K65 also complies with the requirements of ANSI/ISA 12.12.01 (Class I, Div. 2, Gas Groups C and D), earning it certification as an "explosion proof" piece of equipment.
These additional features go to work when the fire is over
The K65's work isn't done after the fire or other emergency is over. The documentation of incident management operations is an important requirement for after-action reports necessary for improving policy, procedures and training, and the K65 "comes up in spades" with features like:
Producing Simple Reports. The K65's thermal images can be stored in the FLIR K-Series and later be used to produce simple reports of what happened at the scene.
In-Camera Video Storage. The K65 can store up to 200 images or video clips with a maximum length of 5 minutes each, making it a valuable tool for on-site assessment, later analysis or training purposes.
Data Offload. Getting all that data offloaded from the K65 to a computer or tablet is a snap with its data communication interface that uses a USB Mini-B port for data transfer.
Data Upload. With the FLIR Tools/Configurator you can update the cameras firmware locally without needing to return your TIC to the factory. This means that as your TIC ages, those updates will keep your K65 TIC on par with new units being manufactured at that time.  The software also gives you almost complete control of your TIC's features, with the ability to toggle different functions on or off to suit your department's unique needs.
Power System. The K65 gets its power from a Li-ion battery, giving it four hours of operating time. Charging time to achieve 85% capacity is two hours.
All the above is available in a TIC that's 4.7" x 4.9" x 11" (120 mm × 125 mm × 280 mm) and weighs in at 2.4 lbs. (1.1 kg). So, with all that going for it, shouldn't your fire department make the K65 TIC from Teledyne FLIR its next TIC purchase? 

Request information from Witmer Public Safety Group, Inc.
Thank You!