Safety Vision Launches New Web Site
---
Safety Vision has launched their new web site: www.safetyvision.com. Check out the new look of the site.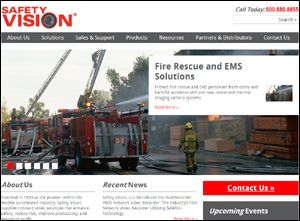 About Safety Vision
Who we are:
Safety Vision has long been a driving force in the mobile video market. Since 1993, we have provided fleet operators in diverse industries with a full suite of onboard surveillance and collision avoidance camera systems.
Who we serve:
We supply the public and private sectors with security video surveillance technology to enhance safety, reduce risk, improve productivity, and maximize profit. Our expertise is grounded in our long history and our thorough understanding of video technology applications across the mobile landscape:
• The public safety, passenger transport, and first responder communities rely on our mobile digital recording technologies for evidentiary video and audio data in the event of accident or claim.
• Fleet customers across many commercial transportation and heavy equipment industries use our collision avoidance camera systems to improve safety by enhancing driver visibility.
• And many customers look to us for customized solutions that integrate these and other mobile systems and technologies.
What we bring:
Our solutions may reduce moving and backing accidents, prevent fraudulent claims and frivolous lawsuits, discourage vandalism and other crimes, and counter threats to public security. Whatever the business application, wherever the mobile environment, we are here to supply you with the onboard video camera systems & tools you need to safeguard people, protect investments, and improve operations.
To learn more about our security dvr video systems, surveillance solutions and how we can tailor a solution suited to your unique budgetary and operational needs, contact us or call 800.880.8855.

Request more info from Safety Vision
Thank You!