4 firefighters killed in Bangladesh fire; writ issued over equipment
---
Editor's note: Four firefighters have now been reported killed in Bangladesh as they were responding to the mall fire without necessary equipment. Three more deaths and injuries of 18 others have also been blamed on a poorly functioning fire security system inside the building.
Xinhua News Agency

AP photo
Firefighters respond to the blaze.
DHAKA, Bangladesh — A writ petition was filed on Sunday with Bangladesh's High Court seeking directions towards the government to arrange fire-fighting equipment for the safety of high-rise buildings across the country following Friday's fire.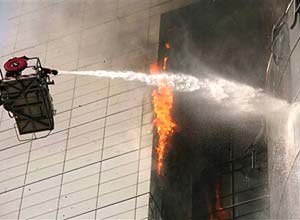 The petition also challenged the legality of the government's inaction in arranging the fire-fighting equipment properly, local newspaper The Daily Star reported on its website.
The petition was filed as a public interest litigation following the incident of massive fire at the country's biggest shopping complex Bashundhara City in the capital Dhaka on Friday afternoon, the report said.
The fire fighters who reached the site immediately were seen helpless in extinguishing the fire on top floors of the 19-storey building as they had no ladder or equipment to put out blaze beyond the 13th floor.
Daily Star said Bangladesh's home secretary, finance secretary, food and disaster management secretary and chief of Fire Service have been made respondent in the petition.
After a brief hearing, the High Court kept the petition stand over for a week and fixed next Sunday for further hearing of the petition.
Three lawyers of the country's Supreme Court, on behalf of a Bangladesh nongovernmental organization the Human Rights and Peace for Bangladesh, filed the petition, Daily Star said.
Bangladesh's Home Minister Sahara Khatun Saturday said the country's Fire Brigade will be modernized soon with high-tech equipment to tackle any such terrible fire in the future.
The shopping complex fire, which lasted for some 7-8 hours before it was put out in the evening, claimed seven people's lives and injured at least 18 others.
Director General of Fire Service and Civil Defense Abu Nayeem Md Shahidullah Friday blamed lack of required equipment for the delay of extinguishing the fire.
Copyright 2009 Xinhua News Agency