Ease of Operations
---
In the past several years, we have seen a greater emphasis placed on firefighter safety on the fireground. While safety has always been a great concern, recently, the apparatus manufacturers and their design engineers have gotten into the act with great results; I have seen more ergonomically correct vehicles produced in the past 2 years than ever before.
Some recently delivered apparatus now commonly feature mounting tools, equipment and hose that's lower to the ground so firefighters have easier access to it. Attend any of the big fire-service shows around the country, and you will definitely see lower and deeper hosebeds and hydraulic rescue tools mounted on extended front bumper compartments.
Pierce introduced its "Pack Mule," a hydraulically lowered hosebed. And Smeal has its EHL (ergonomic hose load) Pumper and aerials, which operate similarly to the Pack Mule. We have also seen hydraulic and electric ladder racks, and overhead ladder gantrys.
The FDNY has had lower hosebeds on its apparatus for probably 30 years or more, but the idea just never caught on with customers of custom fire apparatus.
Having been a firefighter for more than 30 years, I can tell you it is no picnic climbing up high on an engine's back step and then having to reach for a hose load and jump down, stretching the load to the fire building. Climbing back up after a fire and repacking the hose could also be a hazard.
Additionally, I am also starting to see additional crosslays installed as well as more speedlays on pumpers and quints.
The European influence on the U.S. fire service has also been expanded with rear-mount pumps and pump panels as well as rear-mount rescue pumpers — all a great improvement as far as I am concerned.
What some of us don't realize is, in the long run, all of these innovations can greatly reduce firefighters injuries.
Some manufacturers have used outside engineering firms and universities to conduct studies about this topic; these studies show that lowering hosebeds and equipment decreases the risk of shoulder injuries, lowers the fall potential, lowers heart rates and, finally, lessens back injuries.
I don't know about you, but I am a big fan of anything that can make a firefighter's job easier.
Let's look at some of the current options out there: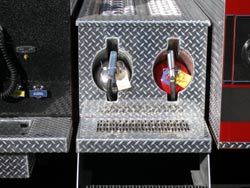 Extinguishers mounted under steps for easy access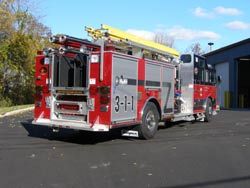 Seagrave Pumper Low Hosebed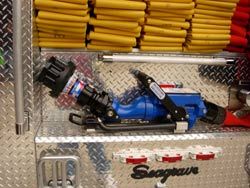 Mater Stream Device mounted ow on rear of pumper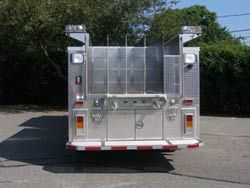 Crimson Pumper Low Hosebed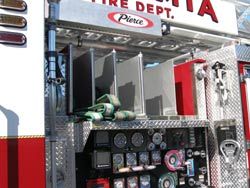 Crosslays on quint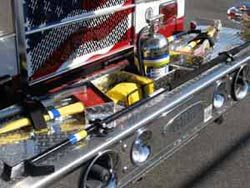 Truck Company tools mounted on front bumper of Midmount Quint