Hannay Reels displays firefighting and rescue reels at FDIC
There will be numerous reels for firefighting and rescue applications on display at the Hannay Reels booth designed to maximize vehicle space limitations
---
Hannay Reels will showcase hose and cable reels designed for firefighting and rescue applications at the 2014 Fire Department Instructors Conference, April 10-12, 2014, at the Indianapolis Convention Center and Lucas Oil Stadium.
Equipped with a storage drum extension, the Hannay Reels C16-10-11-DE is a lightweight and durable reel that can manage long lengths of cable. It features an adjustable cam-lock drag device to brake the reel, as well as a crank handle permanently attached to the disc.
There will be several reels for firefighting and rescue applications on display at the Hannay Reels booth. Some on display include the Dual Agent Hose Reel, which is made of lightweight aluminum and features a gear-driven crank rewind and pinion brake. It can handle pressures up to 1000 psi. Another Hannay Reel on display will be the Utility Hose Reel that is used for utility or breathing air. it handles pressure at 3000 psi and features a company design and chain and sprocket drive powered by an electric motor.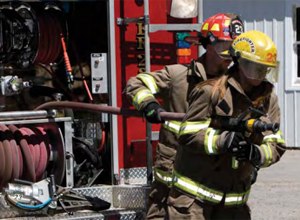 The Booster Hose Reel on display is a dependable, rugged reel. It's available in stainless steel or lighter-weight construction. The Custom Swing Out Reel is a heavy-duty reel for single-or dual-agent hoses. It swings out for operations, features chain and sprocket drive powered by an electric, hydraulic or air motor with an auxiliary manual crank rewind.
The Company/Low Profile Reel for Booster Hose features an electric power rewind with comet brake and the Live Electric Cable Reel is an onsite reel that includes an electric rewind with switch and solenoid.
Lastly, the ELF Series Cable Reel is designed with low height for tight area installations and handles life electric cable and features chain and sprocket drive powered by an electric gear motor.