Key Hose, Inc. introduces TRU-ID 2.25" fire hose
The new hose size eliminates more than 20 pounds in weight and allows firefighter more maneuverability on scene
---
By FireRescue1 Staff
DOTHAN, Ala. — Key Hose recently introduced a new hose to its lineup, the TRU-ID 2.25" fire hose.
Designed to provide a more ergonomic grip for firefighters on scene, the TRU-ID 225 fire hose also eliminates more than 20 pounds of weight, providing maneuverability. In addition, the hose is outfitted in the standard Key Hose double jacket, which resists punctures.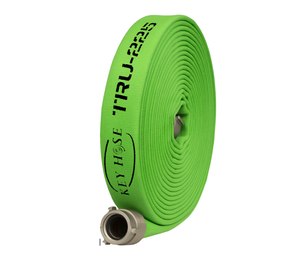 The new diameter size is part of the company's commitment to providing firefighting solutions to first responders.
"At Key, we are constantly looking for ways to provide firefighters solutions to the everchanging challenges they face," Doug Bonney, director of sales and marketing at Key Hose, said. "Our commitment has always been to listen to these experts, so that we can design and engineer innovative products that make firefighting more efficient, and more effective with safety in mind."
The TRU-ID 225 is recommended for use with "low pressure/high volume nozzles," and is equipped with laser-engraved, extruded aluminum alloy couplings, which are guaranteed for the life of the hose. The new hose is also National Fire Protection Association compliant.
Visit Key Hose at the Fire Department Instructor's Conference trade show April 8-13 in Indianapolis, booth #1634.