Milwaukee Fire Department donates apparatus to Tanzania sister city
---
By FireRescue1 Staff
MILWAUKEE — With a single fire truck serving a population of 300,000, firefighters in the city of Morogoro in Tanzania have always faced a tough task getting to incidents.
But the city's fleet has now doubled after the Milwaukee Fire Department donated a 1992 Ford Darley apparatus on Monday.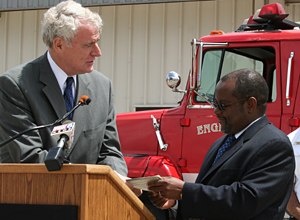 The handover took place during an acceptance ceremony attended by Milwaukee and Tanzania officials at the Milwaukee Fire and Police academy.
"Donating a fire engine to the Morogoro Fire Department was a no-brainer once I was apprised of the number of people they serve with only one fire engine now, and the number of people who tragically fall victim to fires each year in this region," Milwaukee Fire Chief Douglas Holton said.
Chief Holton made the vow to donate a fire engine during a 2007 ceremony in which Morogoro became a sister city to Milwaukee.
"Two years ago government officials from Tanzania told us they were in dire need of a fire engine, and I am happy that we were able to fulfill that need today," said Milwaukee Mayor Tom Barrett.
Two Morogoro firefighters have been training with the Milwaukee Fire Department on how to use and maintain the vehicle they will soon receive.
The training includes intensive pump and hose operations, apparatus maintenance procedures and driving techniques.
During their stay, the Morogoro firefighters have lived among their Milwaukee counterparts and accompanied the crews on runs.