MLB player buys fire truck for hometown
Texas Rangers' Nelson Cruz inspired the American Medical Response to donate the ambulances after he bought his hometown a fire truck
---
ARLINGTON, Texas — The right fielder for the Texas Rangers has purchased a fire truck for his hometown, which lacks proper firefighting equipment.
Nelson Cruz is originally from San Francisco de Macoris, the rural capital of the Dominican Republic. The city has 245,000 residents, but firefighters do not have a rugged pumper truck and few ambulances, according to the Star-Telegram.
With assistance from the Arlington Fire Department, Cruz was able to buy an all-terrain apparatus.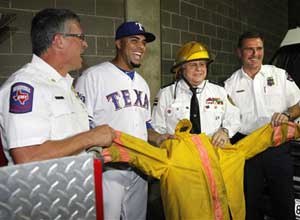 "In my hometown, we don't have ambulances or fire trucks, so I decided to buy one," he said.
American Medical Response, inspired by Cruz's purchase, is also donating two ambulances. The Arlington Fire Department is also throwing in hand tools, hoses, and nozzles.
Cruz presented the keys to the new truck to Chief Luis Esmurdoc on Wednesday at a game against the Oakland A's, the Star-Telegram reported.
Esmurdoc's department services three neighboring provinces and three outlying communities.
"They cover a lot of territory with just a few trucks. Having an additional truck will help them out tremendously," Arlington Assistant Fire Chief David Carroll said.
Cruz hopes all the donated equipment will be shipped by November.