The eMAX: European styling meets new technology
It seems that E-One really did its homework on the design of its new apparatus
---
Several years ago, it looked like the demise of E-One could take place with Federal Signal deciding to sell the apparatus giant. However, the company has made a great comeback with new apparatus offerings each year since the company was purchased by a new management group.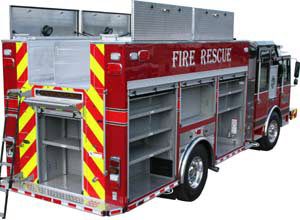 Photo E-One
If you had a chance to attend FDIC 2011, you probably visited the always large E-One exhibit area. E-One, no stranger to unveiling new apparatus products each year, showcased its new eMAX pumper this time around.
The eMAX has a great deal of new engineering technology built into this new pumper. The engineers at E-One seem to have combined some European styling with good ergonomic ideas, helping to build a good, safe vehicle for firefighter operation on the fireground.
To begin with, E-One is trying to please everyone with this new pumper. You can have it built on the E-One Quest, Cyclone and Typhoon chassis, as well as International and Freightliner commercial chassis.
Usually when a manufacturer unveils a new chassis, it offers the design on a limited range of chassis. But E-One has really covered all bases with the introduction of the eMAX. 
In addition, the new pumper offers a short wheelbase and more compartment space — 586 cubic feet to be exact. In this day and age of having to do more with less and having more EMS runs, the added compartment space is a plus for fire departments that might use this new engine for a first responder role, carrying EMS equipment.
What really makes this unique is that the pump panel is narrow and hose discharges and crosslays are lower than standard, giving firefighters easier access and making hose stretches quicker and safer.
The pump configuration is 1250-1500gpm and is available in electric or manual valves. The unit is also available with Class A or B direct injection foam as well as CAFS. You can get anywhere from 530-1030 gallon polypropylene water tank.
The pumper is available in side mount, top mount, top mount enclosed, or a side top mount. It can have roll-up or hinged mount doors, an enclosed rear ladder tunnel, which keeps the ladder low to the ground, rooftop compartments and a large rear compartment.
It seems that E-One really did its homework on the design of the eMAX. Every area of firefighter safety has been covered, making it easier for operation on the fireground.
According to E-One, there have been many inquiries into the new unit. The first will be going to Plantation, Fla. which already had a new custom pumper on order and switched to the eMAX when it was unveiled.
If you are in the process of writing specs for a new custom or even a commercial pumper, the eMAX is a product you might want to look at. It might make writing the specs easier for you since as the great design has all of the options included.