FSRI releases hands-on training toolkit for hose stream mechanics
The kit includes information on building FSRI's Hose Stream Prop and a variety of lessons
---
By Leila Merrill
NORTHBROOK, Ill. — UL's Fire Safety Research Institute has announced the release of a new hands-on training toolkit focused on hose stream mechanics. The toolkit gives fire departments a new way to put research into practice.
"This toolkit is designed to facilitate realistic training and includes all the information needed to construct and utilize FSRI's Hose Stream Prop — everything from prop designs, video demos, and training lesson plans covering air entrainment principles in hose streams, and water distribution tactics in structures," the FSRI said in a news release on Feb. 3.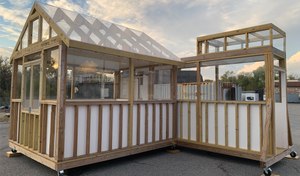 "FSRI designed several enhancements to optimize usability and increase the suppression concepts able to be visualized with the prop, leading up to the final version and current construction plans. FSRI is proud to share these plans along with instructional videos and lesson plans for fire departments to incorporate into their training protocols," the news release said.
The toolkit lessons focus on:
How to manage air entrainment and effectively distribute water and map the surfaces of a structure on the approach to – and into – various interior fire compartments.
Strategies for utilizing different stream types, application patterns, stream angles, and methods of deflection to assist in game-time decision-making during exterior suppression operations.
How coordinating ventilation post-suppression can quickly return the environment to tenable conditions and provide greater visibility when conducting interior operations.
How to properly place a stream into the eave line to quickly coat the attic while limiting ventilation into the space.
"This Hose Stream Prop is a gift to the fire service born out of field experience and research. My hope is that this prop becomes part of every firefighter academy curriculum. The importance of stream placement and its effect on the fire is a 'must learn' for firefighters," said Ray McCormack, a retired fire lieutenant with the Fire Department of New York.
"This innovative, hands-on training prop can be incorporated into fireground suppression training at any level – from the newest of recruits to the most experienced of company officers. It provides a great visual aid to demonstrate how varying suppression tactics move air about a structure and how the water coats the building surfaces and burning materials," said Keith Stakes, a research engineer with FSRI.
To learn more and download the toolkit, go to fsri.org/hose-stream-mechanics.

Request product info from top Fire Training Products companies
Thank You!